Olympic Diver Wins Silver, Then Gets Surprise Proposal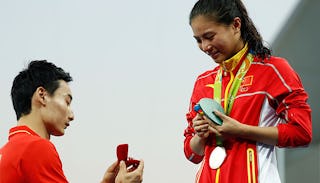 Chinese diver Qin Kai proposes to silver medalist He Zi. Image via Clive Rose/Getty Images.
Chinese diver He Zi won the silver medal and got engaged all in one night
Chinese diver He Zi won a silver medal and was proposed to in front of the world last night. Since then her engagement story has gone viral because it's completely adorable. Earlier in the games, Brazilian rugby player Isadora Cerullo was also proposed to prompting us to wonder are Olympic proposals a great idea or the best idea?
Zi had just won her medal for the women's three-meter springboard at the Rio Olympics when her boyfriend Qin Kai dropped to one knee on the awards podium and asked the big question. Kai is also a diver and won the bronze in the men's three-meter synchronized springboard last week, according to the BBC.
It's easy to see from the photos that she was a bit surprised. Who wouldn't be? "We've been dating for six years, but I didn't expect him to propose today," Zi told reporters. "He said a lot of things, made a lot of promises, but I think the thing that touched me the most is I think this is the guy I can trust for the rest of my life."
Awww. To the haters out there saying he "stole her moment" — they've been together for seven years. He just may know what she likes a little more than the armchair love-haters of the internet.
Being proposed to in front of the world right after you won a silver medal at the Olympics? No big deal. Just kidding – you can definitely see the shock on her face. But Kai's happiness when she says yes is priceless. He shared a huge smile and fist pump with the crowd. Then the couple celebrated with a big hug.
Zi's seen above sporting her new engagement ring while also clutching her medal holder, which is the funky looking multi-colored thing in her left hand. Winners have been receiving the wooden sculpture that's made of 30 percent of recycled material instead of flowers as an effort by organizers to promote sustainability. What an incredible moment for this young woman – making history in your professional athletic career and taking a huge step in your personal life. Zi wasn't the only Olympic athlete to be proposed to during this year's games.
Brazilian rugby player Isadora Cerullo was proposed to by girlfriend Marjorie Enya after Monday's Olympic finals. Watch the video below to see the special moment these ladies shared with Olympic athletes and workers as Enya is a manager at the venue.
Like Zi and Kai, this couple is celebrating their big news with the world. "As soon as I knew she was in the squad I thought I have to make this special," Enya shared with the BBC. "I know rugby people are amazing and they would embrace it." And while monumental public displays of affection aren't for everyone, these couples are all about it. Enya told the media she wasn't nervous about asking her girlfriend to marry her, adding that "I wanted to show people that love wins."
Some people were quick to point out that the proposals were "stealing the moment" and "inappropriate" — but to them we say, oh please. There is so much happiness in these moments – the rest of us will take it in with a smile and let the naysayers argue on Facebook.
This article was originally published on