Why We All Should Care About The Clean Water Crisis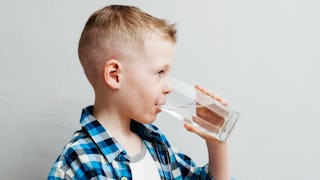 alien185 / Getty
Colorless. Odorless. Lead.
Once in a child's body, the damage is irreversible.
This problem is worse than most people know. Aside from lead, there are many other contaminants and chemicals in tap water.
We don't even know what all these chemicals are.
We don't know how to test for all of them.
We don't know how to filter them out.
What will your child be drinking?
Come September, it may be very different than what my 9-year-old is drinking, as water quality varies from region to region, depending on our zip codes.
As the summer comes to an end, it's time to shop for school supplies, backpacks, and uniforms. With that, uneasiness grows about what's been on the news regarding the water quality in our schools.
I admit that I, along with so many parents, may have been complacent about this. Yet after reading about the 20+ Satellite Beach Florida high school students with cancer, linked to water contamination in their school area, it's a dangerous issue to avoid.
Then there are the continuing reports about the Flint water crisis, which has not been completely resolved.
It terrifies me to imagine that this could happen anywhere. That there may be lead, or worse, many other harmful chemicals in the water our children are drinking in school.
We wouldn't even know it until it's too late.
Upwards of "12,000 children [have been] exposed to excessive lead," writes The Washington Post, "most of them from Flint's poorest families."
Lead poisoning can cause "irreversible damage to a developing brain," the authors explain. It's most dangerous in kids 5 and under. Symptoms of lead poisoning include developmental delays, dyslexia, and behavioral problems.
And as The Washington Post reports, "between 2013 and 2017, the portion of Flint's third-graders who tested as proficient in reading at grade level fell from 41.8 percent to 10.7 percent."
Where do we even begin?
Here are some of the things I found at my state's website:
Each state has its own regulations about laws regarding water testing in public schools. I was initially thrilled to see that New Jersey, where I live, does require public schools to test the water.
They only have to test it every 6 years and when changes are made to the plumbing.
Results are required to be posted in schools and on district board of education websites within 24 hours of review.
No money has been allocated for remediation efforts yet.
Providing water in plastic bottles is expensive, creates disposal problems, and the bottles may also leach chemicals like phthalates into the water.
You may want to click away from this page and pretend all is well.
Yet once you read this far, you can't unsee these immediate risks to our children's health, education and future.
Your options:
Inform yourself. Take some of the time you spend on social media or reading the news and divert it to reading specifically about this topic.
Spread the word so your friends, neighbors, families, communities all find out if their schools' water is tested and what the results are. Share this post with them.
Make sure you provide for your kids' immediate needs for clean water in school daily until you find out what the test results are, and remember that bottled water may not be that much better.