7 Surprisingly Delicious Healthy Snacks For Picky Eaters
by Wendy Wisner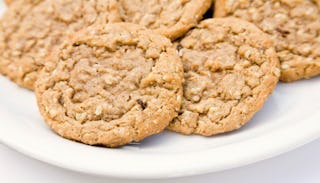 Alejandro Rivera / iStock
My 9-year-old son is as picky as they get—always has been. I remember the first time we fed him solid food. It was applesauce (maybe not the best choice, looking back). After one tiny lick of the spoon, he started to shudder and squirm as if we'd given him spoiled wine.
Since he's gotten older, he's started to think a little more rationally about his health choices. He knows he needs to eat from all the food groups on a more regular basis, and he is willing to work with me to find ways that he can get what he needs nutritionally without offending his oh-so-sensitive taste buds.
He eats fairly well at mealtimes, especially dinner when I can almost always get him to eat one of his chosen vegetables (broccoli or corn only) and a decent protein. Snacks, on the other hand, are harder. It's too easy for him to reach for a bag of chips or pretzels. I keep the healthiest brands on hand, but it's still hard to get him to eat anything with much nutrition.
Over the past few months, we have come up with some staple snacks that I feel happy for him to eat and that he gladly consumes. But even the most picky eaters get in a rut sometimes. So recently, my son let me scour Pinterest for some snacks for him to taste-test. Here are the winners:
1. Apple 'Cookies'
Getting my son to eat fruit is tough, but these apple "cookies" were a big hit with him. I mean, who can say no to the apple/peanut butter combo? And the chocolate chips only sweeten the deal. I will tell you, though, that the shredded coconut and chopped nuts did not make it into our version (I'll take what I can get!).
2. Fruit and Sandwich Kabobs
I didn't realize that sometimes it's all in how you present a food. It turns out my son is more likely to eat fruit—and even PB&J sandwiches—if I stick them on a skewer. Who knew? But my son went for it, and that's all that matters.
3. Chocolate Peanut Butter Green Smoothie
This is one of our tried and true recipes. We've made it numerous times since trying it out. I tweak it here and there (no chia seeds for us!), but it's one of the only ways I can get my kid to eat anything green at all. I didn't believe it at first, but trust me: Chocolate somehow cancels out the taste of spinach, and your kid will actually drink it. I've tried it myself, and it's delicious!
4. Strawberries and Cream Smoothie
Oh holy hell, this one was my favorite to taste test. We used full-fat coconut milk, and as someone who hasn't been able to digest dairy for the past few years, this was a total treat. It was basically strawberry ice cream, but most of the sweetness came from the fruit (but definitely add healthy sweetener if your kid needs it; mine did).
5. Avocado Banana Chocolate Pudding
Apparently, avocado is one of those super-foods that everyone should be eating. I can't get enough of it, personally (hello, guacamole!), but my son has never in his life touched it. However, he happily ate this pudding made with it (I did not tell him there was an ounce of avocado in it). I will admit that I went a little heavier on the banana than the avocado, but it worked well enough. And most importantly: He ate it.
6. Flourless Pumpkin Muffins
Orange-colored foods (packed with vitamins A and C, and other good stuff) are hard to get into my son. The kid won't even eat a carrot. But he loves the taste of pumpkin. These muffins were awesome, and they get their doughiness from whole-grain oats.
7. Oatmeal Banana Cookies
This last one isn't a new-to-us recipe, but I have to share it with you because it's super easy, super healthy, and my son has always loved it. It's just four ingredients, and makes your whole house smell like banana bread:
3 very ripe bananas, mashed
2 cups of whole oats
¼ cup oil (we usually use olive oil, but any simple oil will do)
cinnamon to taste
Mash up the bananas. Mix in the oats, oil, and cinnamon. Form into medium-sized cookies. Bake at 375 degrees for 15 to 20 minutes or until cookies are slightly brown around the edges. Your kids will love them. I promise.
Testing these snacks with my son was a lot of fun. It made eating into a bit of a game for him, which made everything more palatable. He enjoyed getting to choose which recipes to try and getting to veto the ones that didn't work for him. Most of all, it showed me that with just a little detective work, it's possible to provide healthy snacks for even the pickiest eaters out there.
This article was originally published on