It's So Freaking Hot In Arizona That Everything Is Melting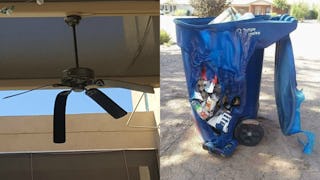 Image via @InattentiveGF / Cole Smeriglio / Twitter
Nothing plastic is safe from Arizona's record-breaking heat wave.
It's summer, and a lot of places are warming up. But before you complain too much about getting your sweat on in your city, consider Arizona, where a record-breaking heat wave is causing all of the problems.
The state's Department of Health Services has issued an excessive heat warning that was still in effect for more than a dozen counties on Sunday, and there was no indication that the heat would let up Monday in several of them, the New York Times reported. Cities like Phoenix have seen temperatures climbing above 120 degrees Fahrenheit, and the extreme heat has contributed to other natural disasters, including rampant wildfires. Late last week, Gov. Doug Ducey declared a statewide state of emergency so he could secure more resources to fight the fires and keep residents safe in the face of the record-breaking heat spike.
And here's the worst news: Scientists say climate change is likely to cause more, similar heat waves from now on.
"The science is showing that the likelihood and the magnitude of these heat waves is likely to be exacerbated by climate change," David Sailor, a professor at Arizona State University and the director of its Urban Climate Research Center, told the Times.
For now, Arizona residents are finding humor in the disaster by taking to social media to show some of the effects of the heat, like all the things that are literally melting during the heat wave.
It's melting the paint off street signs:
In a truly cruel joke to the poor souls who are just trying to catch a breeze, it's melting ceiling fans:
It's melting mailboxes:
Even trash cans are no match for the current temperatures:
It's so dang hot in Arizona that cactuses, plants that thrive in dry, hot climates, are melting (sort of):
120 degrees is so excessive and rare, the weather map has run out of colors to represent the frankly insane temperatures in the state and is now covered in sizable swaths of black. It's as ominous as it sounds.
One enterprising Arizonan took advantage of the air temperatures that are akin to literal oven temperatures, and baked a cookie on the dashboard of a car. It was fully cooked in just over an hour.
We're sure everyone in Arizona is ready to hop on a plane and head north to cooler temperatures, but too bad — it's literally too hot for planes to take off, something we didn't even know could happen.
Everyone in Arizona right now, probably:
Stay safe (and cool) out there, Arizona.
This article was originally published on