These Heated Beds Will Keep Your Pets So Cozy This Winter
by Team Scary Mommy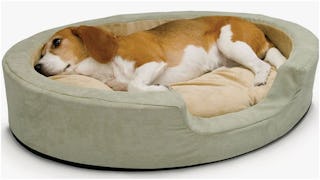 Image via Walmart
Your pets are about to get the warmest, snuggliest treatment
Prepare to feel a mix of complete joy and hardcore jealousy. Walmart is selling heated beds for cats and dogs and they look like the coziest spots to nap. Bring on all the winter chill – your pets will be sleeping smugly while the rest of us shiver in our far less superior, non-heated beds.
Meet your pup's new favorite hang out spot. This snuggly sleeper comes with dual thermostats, a washable cover, removable heater, and all the plush comfort. Will your dog want to sleep there throughout the entire winter? Yes. Will you be very, very jealous? Yes.
This igloo style heated bed has an internal thermostat, a 5.5′ chord, and will keep your pet nice and warm during all those freezing nights. Also the cuteness factor is pretty hard to beat.
The day you thought would never come has officially come. Your cat will actually WANT to go outdoors thanks to this heated kitty house. It comes complete with two entry doors, a removable cover, and is totally water-resistant. Pretty purr-fect.
Question: what's better than a classic fort? Answer: a fort that's made entirely of fleece and thermo-reflective material, which adapts to your pets' core body temperature keeping them nice and snug. We should all curl up in a furry tunnel during these cold, cold months.
This one is for the fanciest of pets. They'll definitely have a very hard time turning their nose on a very soft, heated bed with cheetah print fabric. Also – bonus points for you – the heater is removable and the fabric is completely durable.
Your dog better prepare for all the plushness. This heated pet bed is super snuggly and comes with an internal thermostat that regulates the bed's temperature. Impatiently waiting for this exact creation to be made for humans.
Is your pet the no-hassle, no-frills type? Go with this self-warming bed. It'll keep them very toasty AND you can bring it on the go. That's 24/7 coziness right there.
Turn your cats into very happy campers with this heated tent-style house. There's removable flaps to keep out wind and debris, plus the waterproof fabric will make sure everything stays dry. Let the games begin.
Here's to your pets having the snuggliest of winters. The rest of us will just have to make do.
We are a participant in the Walmart.com Affiliate Program and may earn fees by linking to Walmart.com and affiliated sites.
This article was originally published on