These Heated Products Will Keep You So Cozy This Winter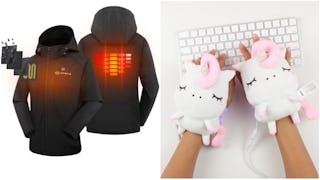 Image via Walmart
These heated products will make your winter a whole lot more bearable
It's starting to get freezing outside which means it's time to dig out all of your warmest blankets, socks, and hoodies. Or you can invest in some pretty genius heated products that will keep you super toasty and snug this winter. Warning: everyone in the house will want to borrow your brand new cat neck warmer (see below).
Sometimes a regular ole winter jacket just won't cut it. This heated jacket will keep you super toasty during every single freezing trip to the grocery store/little league baseball game/walking five feet to the car.
Snuggling up under the covers on a cold, winter night just became so much more fun. This plush heated throw blanket will engulf you with all the softness and coziness.
Sometimes your toes need some extra attention. This foot warming blanket comes complete with a 20 x 35-inch foot pocket, so you can tuck your toes nice and deep into the warmth.
Or, you can keep your toes extra toasty with these very cute, very cranky heated cat slippers. All you have to do is plug them into any USB port and you'll be in snug heaven.
And why yes, you can wear that same cranky cat as a heated neck pillow as well.
Wrap yourself in this heated travel blanket when you're driving to work and you just might not hate the mornings quite so much anymore.
You're definitely going to want to spend your nights with this heated pillow that looks like a happy piece of toast.
Bring some heat with you when you're on the go. This 12-hour refillable hand warmer from Zippo will keep your fingers nice and toasty, which means your overall winter crankiness will go down by, like, ten notches.
If you want to add a dash of fun to your hand warming, go with these heated unicorns. They'll keep you super cozy and there's literally nothing better than wearing an adorable unicorn at all times.
A heater + a foot massager = a wintery dream come true. This machine will go to town on your tired muscles and provide all the comfy, relaxing warmth.
Stay warm and cozy this winter, everybody. Hot chocolate and Netflix binging is mandatory with all of the above.
We are a participant in the Walmart.com Affiliate Program and may earn fees by linking to Walmart.com and affiliated sites.
This article was originally published on