Teacher Dies From Flu After Delaying Picking Up Costly Prescription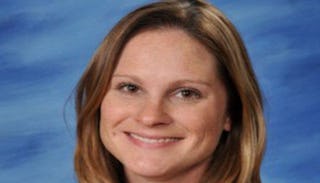 Image via WISD School District
The co-pay for Heather Holland's flu prescription exceeded $100
In heartbreaking news, a 38-year-old elementary school teacher, wife, and mom of two has died from the flu. Heather Holland, a second-grade teacher in Texas, came down with the flu last week and died over the weekend. She delayed picking up a prescription because she felt her co-pay was too high.
No one should have to die because of costly medication. Period.
According to the Weatherford Democrat, Holland first fell ill about a week ago and planned to pick up flu medication, but delayed doing so because the copay was $116, her husband says. While he purchased the prescription himself after his wife put it off, her condition worsened rapidly.
"Friday night, things escalated and she ended up in the ICU," Holland told the paper. "The doctors got the blood cultures back and they had to put her on dialysis early Saturday." She died early on Sunday.
This year's flu season is particularly nasty, thanks to a serious strain that's so bad most flu vaccines are only 40 to 60 percent effective, if that. The CDC is reporting over 4,000 flu-related deaths in the United States alone, with 63 of them being young children.
Which just makes the fact that flu medications are too costly for many people all the more outrageous. While there's no way to know for sure whether Holland's prescription could have been life-saving, the fact that it cost over a hundred dollars and was therefore expensive enough to cause her to forego purchasing it at first means our health care system and drug companies are failing the people who need it most.
The high cost of necessary medications and treatments should not result in sick people getting sicker, or worse — dying.
A spokeswoman for Weatherford Independent School district, where Holland taught, told a local news station grief counselors will be available at the school all week. The school itself is undergoing deep cleaning to keep students and staff from getting sick.
"This is a sad time for our WISD family, especially for those who knew Mrs. Holland as a friend and colleague. Heather was an outstanding educator. She had been a member of the Ikard family since 2014 and touched the lives of many students, parents, and staff members. Our thoughts remain with the Holland family and our Ikard staff during this difficult time," said Dr. Jeffrey Hanks, superintendent in a statement on the school's website. There is currently a GoFundMe set up to help the Holland family in their time of need.
Holland's husband described his wife as a passionate teacher. "She loved helping people, helping the kids, and the kids loved her."