True Crime: Heather Mack Helped Stuff Her Dead Mom Into A Suitcase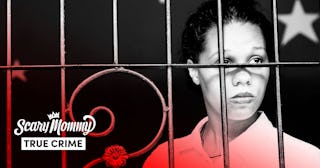 Scary Mommy and Agung Parameswara/Getty
It looks open-and-shut: 62-year-old Chicago socialite Sheila von Wiese Mack and her 19-year-old daughter Heather flew to Bali on August 4, 2014. Heather's boyfriend, 21-year-old Tommy Schaefer, filched Sheila's credit card, dropping $12,000 on a flight to meet them at the five-star Bali St. Regis, where rooms start at $800 a night and rise to $5,000.
About nine hours after he arrived, Sheila was dead and stuffed in a suitcase.
Mack and Schaefer loaded her body into a taxi's trunk and said they were going back inside to check out. They didn't return, and blood began seeping out. Hotel security suggested to the taxi driver that he take that suitcase to police, who opened it and found a half-naked Sheila.
Mack and Schaefer were discovered a day later, asleep in a budget hotel hotel in the Kuta area, where St. Regis is located. They'd used the dead woman's card to pay for their lodging.
In text messages, they call each other "Bonnie and Clyde." Literally can't wait, Heather Mack texted about her mother's planned murder.
Now she's being released from the Indonesian jail that's held her since 2015.
Heather Mack And Tommy Schaefer Sentenced
Sheila, it emerged, had died of blunt-force trauma. She'd been bludgeoned to death with the handle of a metal fruit bowl and had cuts on both forearms, in addition to a broken left fingernail — indicating that she'd fought her attackers. Originally, charged with premeditated murder, Mack and Schaefer faced the firing squad. But an American judge ruled she could use $150,000 from her trust fund as defense, and prosecutors only sought an 18-year sentence for Schaefer and a 15-year sentence for Mack.
At 2015 trials held separately in the same court before the same judges and prosecutors, Tommy and Heather claimed that Sheila became violent when they revealed that Heather was pregnant with Tommy's baby. After hurling a racial slur at him — Tommy is Black, as is Sheila's late husband, jazz composer James Mack — Sheila began choking him, and continued for at least thirty seconds before he grabbed the fruit bowl.
Heather hid in the bathroom, she said, while her mother was being murdered, but they stuffed her body in that suitcase together.
But Tommy's politeness and expression of remorse, despite what the judge called his "sadistic" deed, left him with only that 18-year sentence. Heather, who had just given birth to her baby girl, Stella, was given only ten years.
It Sounds Simple. But…
People tell two stories about Sheila von Wiese Mack. In one narrative, she's a beloved Chicago socialite and member of the tony Caxton Club. She patronized the arts. She once worked for Ted Kennedy and says, "I even poured tea for Rose Kennedy a time or two." She went on to work for Jackie O. and made friends with acclaimed American author Saul Bellow. Her Caxton Club interview calls her a lover of Asian literature and Wagnerian opera.
"She was a cultured lady, and just a lovely person," said Caxton Club president Susan Hanes.
Meanwhile, said Mark Bacharach, her friend of 25 years, her daughter would disappear for days with no word. "At least four or five of us would say to kick her out. She was hanging out with a bad crowd," he told NBC. "But Sheila always took her back. [Heather] could be as charming and self-effacingly sweet one minute, and then a vicious little monster the next."
Bacharach claims that before they left for Bali, she and Heather had been fighting: Heather had dropped out of college and was living in a hotel. But Sheila "barely recognized" Heather when she found her. "She tried to hope when it came [to Heather]," Bacharach said. "That was my friend's most outstanding characteristic."
But the police were called to Sheila's house a stunning 86 times in 10 years. "They were all for domestic issues between mother and daughter," local police said. "They were mainly for domestic issues and theft and there were some calls to 911 when the caller hung up. In such cases police send a squad car."
"She bit Sheila. She would hit her. Heather pushed her one time in the bathroom and she fell down and broke her arm. And she wouldn't press charges (because) it's a really hard thing to do when it's your own child," Debbi Curran, Sheila's sister, told a New Zealand paper.
On March 15, 2014, Sheila emailed a friend, "I think that there has to be something done with Heather because it is not possible for me to continue living like this. All of her lies, stealing and not knowing where she goes each and every day, this has been four years now and I simply cannot do it any longer."
On May 2, she wrote, "Heather was violent tonight and left, when you live the way I have lived with Heather for so many years, the problems become almost your 'normal' way of life. I am really scared of what she may do next."
In her last email, sent four days before her death, Sheila says, "I am more frightened than ever."
One source even said to Heavy that, "Heather has always been a very disturbed girl with a lot of psychiatric issues. She was extremely spoiled and would often scream and throw things until she got her way."
But.
A Tale Of Two Shielas
This doesn't match what Heather Mack claimed — first in a tearful YouTube video, then in later interviews. In a 2017 YouTube video, she claims that two weeks before she left for Bali, she discovered that when she was ten, her mother killed her father in a hotel room in Greece (official reports say he died of an embolism). Then, Heather says, "I made it up in my heart, in my mind, in my soul, in my blood, in the oxygen running through my body, that I wanted to kill my mother."
She claims that she asked Tommy to help her find a hitman, and he refused. Deciding to kill her mother in a hotel room like she had supposedly killed her father, she began taking Tommy's phone while he was asleep and trading fake text messages back and forth. Then, she says she told Tommy her mother knew he was coming to Bali, when really, she had stolen her mom's credit card and bought him a ticket. She didn't regret killing her mother.
"As evil as it may sound, that's my reality," Heather says.
However, she regrets bringing Tommy, an innocent person, into it. She said she killed her mother herself, and told Tommy that if he didn't help her clean up, she'd claim he did it. Finally, they told Tommy to lie in court to get out of the death penalty.
Maybe Sheila killed her husband. Maybe she didn't. But Heather paints her image as a mother far differently than Sheila's friends do — except one, who told People Magazine the two were "locked in a dysfunctional, co-dependent relationship from which neither could break free."
"She never wanted to be separated from me and yet she also hated everything about me," Heather Mack told People Magazine from a cell in Kerobokon prison that she shared with seven women and her then-six-month-old daughter. "It was complicated."
While insisting she didn't kill her mother, she said in that 2015 interview that there was some good in their relationship. Her mother would lavish her with presents — but then demand that Heather sleep in her bed. "I had a nice room, but if I ever tried to sleep in it, she couldn't take it and she wouldn't sleep… So I slept with her." The family friends agreed. "When I'd ask Sheila, 'Don't you think she's a little old for that?' She'd say, 'Why? She needs me. She has nightmares at night. She needs me.'"
Heather reports shoplifting expensive cosmetics. As her fights with her mother grew uglier, Sheila would ship her off to psych wards or juvenile detention centers — only to plea for her return a few days later. "If I went to a psych ward, she would get frustrated within a couple days and couldn't take being away from me, so she'd do everything she could to get me out." When Heather turned 18 years old and tried to move out, Sheila would send pictures of her about to kill herself to force her daughter's return.
While Heather says their fights weren't one-sided, "A lot of them were me blocking her from coming at me or her backing me into a corner and not letting me leave and go cool off." The family friend says that Sheila not only feared her daughter, she feared Heather abandoning her, and therefore had to control her as much as possible.
From contradictory reports from Sheila's friends to only one willing to tell a different story, this describes classical narcissistic behavior.
In 2019, Heather told a New Zealand paper that, "My mother was super abusive because she was an alcoholic and a drug addict. I still have these… from when she stabbed me with her nails, this one was a cigarette burn. One time she even set my hair on fire." She continued, "It may have looked like I was rebelling when I was a teenager because I was hanging out with gang members and missing school… My mother would drink heavily at night and once she was drunk she'd start fighting with me because I'd hide her car keys to stop her going for a drive to the store to get more booze. If I fell asleep early, she'd fall down the staircase so I rarely got to bed before five or six in the morning, and I'd wake up when she woke up about 1pm."
She claimed then that her YouTube confession was made up: she was being blackmailed by Tommy. "He wanted me to say that I planned it all so that his sentence would be reduced."
Heather explained her mother already knew she was pregnant; they'd decided on an abortion, but when she refused, things got ugly. Sheila and Tommy, Heather said, "were both drunk, they'd each drunk a bottle of champagne. My mother was using the n-word and Tommy was saying, 'but your husband was Black', and she said it didn't matter because he was rich… She said I was black enough and that if I had a baby with Tommy it would be even blacker. That's what upset my mother so much about Tommy. It was his color."
She admitted that they had planned to kill her mother, but not that way: "It just happened in the heat of the moment. He beat her to death with a fruit bowl that was in his hand."
Heather Mack Is Getting Out
In August, Indonesian President Joko Widodo decided to release Heather Mack early for good behavior. She has only served seven years of her ten-year sentence for assisting murder. "She has shown to be a good person, she was entitled to the sentence reduction," said the warden. "She looked happy when she learned this … and began to pack up excitedly."
She is entitled to be reunited with Stella, now six, but faces extradition to the United States. In prison, Heather has learned to speak Indonesian, mastered the local dialect, and says, "I have learned things about myself that I didn't even know before. I like to make people laugh, and I know how to put other people before myself. I do this to the point of stupidity… I think that I am kind, and I have become a peacemaker in the jail, which is a strange thing for a murderer to say."
Heather Mack says she will return to Bali even if she is extradited. As for murdering her mother? "I am … disgusted with myself just as much as anyone else is."