Hello Kitty Converse Are Here To Make Your Shoe Collection Way Cuter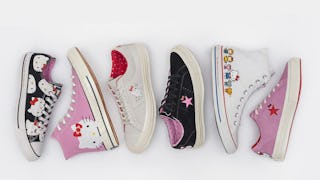 Image via Sanrio
Hello Kitty Converse are here to make back-to-school shopping so much cuter
Picking out back-to-school styles for the whole family just got so much easier. Just grab a pair of these adorable Hello Kitty Converse for everyone on your shopping list and call it good.
Seriously, we're suckers for kids' styles repurposed in ways that grownups can rock too, and these shoes, a collaboration between Converse and Sanrio, are really doing it for us. Our favorite cartoon kitty adorns them in a bunch of cute ways, like in a style where she and all her friends line the side of the shoe.
Or this one, where Kitty peeks up over the top of the sole.
For adults (or kids) who want to rock Hello Kitty gear without being really overt about it, there's this cute style that subtly incorporates her into the star on the side of the sneaker.
But what really makes us love this line is all the small details that pack in even more Hello Kitty love. Look at the way Kitty peeks over the heels on this pair.
Or from under the laces on the tongue of another design.
Her bow is used in a lot of subtler ways, like here, where it decorates the toe of one pair of pink kicks.
A bow design can even be seen through the transparent tread on the bottoms of these shoes. Are you squealing at the cuteness yet? Because we are.
They come in a few classic Converse cuts, including the Converse Chuck Taylor, the Converse Chuck 70, and the more athletic-type One-Stars. Their base colors are black, white and pink, and they come in sizes all the way from a men's 13 down to the most precious baby sneaks of all time.
LOOK AT THEM.
Hello Kitty Converse will be available August 16th on Nike.com, along with a whole range of matching shirts, hoodies, accessories and more. Just in time to get stylin' before the new school year.