4 Things You Can Do To Help Your Child Through Their First Funeral Experience
by Christine Burke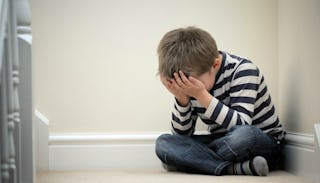 BrianAJackson / iStock
On the morning of my father's funeral, I sat at the kitchen table and stared out the window. My coffee mug sat between my hands, the coffee inside having long gone cold. As I quietly pondered the day's events, my daughter, then 7, sidled up to me and snuggled into my lap for a hug. I breathed in her freshly washed hair and hugged her close. We sat together, in a quiet moment, until she squirmed to the floor and announced that she was going to get dressed for the funeral.
"Mommy, did you pack my play-outside clothes?" she asked.
When I replied that we'd be wearing our church clothes to the service, she looked puzzled.
"But, Mom-my, we are going to get so dirty!" she persisted.
Confused, I scooped her up onto my lap and looked into her hazel eyes. "What do you think we are doing today, sweetie? Today's the day we are going to say goodbye to Poppy, remember?"
With an exasperated sigh, she said, "I know. But don't we have to wear dirty clothes? Because if we are burying Poppy, aren't we going to get dirty with the shovels and dirt?"
It was then that I realized that my daughter thought we'd be doing the heavy lifting of actually laying my father to rest. She thought we'd literally be burying my father. Because my father would have loved that she had the details confused, I laughed for the first time in days at her innocence.
Funerals and the finality of death are confusing enough for adults. But for kids, funerals and death can be downright disconcerting.
It can be difficult to decide what the right course is when a loved one dies. Should you take your child to see your loved one in the final days? Should you include your child in the funeral and expose them to raw, unadulterated grief? While there are no right answers and every child is different, there are a few things you can do to prepare your child for a funeral or the impending loss of a loved one.
1. Be honest and be ready to answer questions you don't expect.
My kids' questions after my father's death ranged from the practical to the existential. They wanted to know where my father was right after he died and where he'd be going until we could get to my hometown to make the arrangements. They wanted to know what his last words were and whether heaven was cold. They wanted to hear that they were safe and that their other grandparents weren't going to leave them suddenly too. We fielded questions at the funeral home regarding the casket and the embalming process ("No, sweetheart, you cannot go see the tools they use…"). We answered each question honestly and without shaming them because we knew they were processing the unfathomable loss of their grandfather in their own ways.
2. Read age-appropriate books about death with your children.
I know this sounds morbid, but it really helps. Kids relate to stories and make-believe characters, and there are wonderful resources available for parents. When my daughter was coping with my father's death, her school guidance counselor gave us a Sesame Street storybook in which Big Bird dealt with the death of a loved one. I often give that book to parents in the aftermath of a family death because it helped our family tremendously.
3. Buy stuffed animals for your children and your deceased loved one.
On the advice of a friend, my children picked out three identical teddy bears in the days leading up to my father's funeral. One teddy bear each for them and one to go with my father in his casket. The teddy bears have become a tangible connection to my dad for my children and are a beautiful reminder that they can love him from afar, no matter where he is. The teddy bears were a constant comfort to them in the months after his death, and to this day, they are never far from them at night. Children respond to the cuddliness of a stuffed animal, and it can be very comforting for them on the day of the funeral.
4. Don't shelter your kids from the dying process.
When my father was diagnosed with cancer, he was vibrant and whole. But in the months that followed, he weakened and became quite frail. While I noticed the nuances of his physical changes, my kids just saw the man who smiled when they came to visit and the man who regularly FaceTimed them to help them with homework in the afternoons. When my father passed away, my children looked at the photo collages we had put together, and they were amazed to realize that their grandfather had looked so sick. Kids are able to see beyond the physicality of dying, and they will surprise you.
When I think back on my father's death, I realize that it was my children and their simple ways of looking at life and death that got me through the toughest times. Looking through the eyes of my children helped me heal and has helped me help them process the loss of their grandfather. And truth be told, I was grateful for those moments my kids gave me that made me laugh out loud. Because in those tough moments, if you don't laugh, you'll cry.
This article was originally published on