Helping Our Parents Get A COVID Vaccine Has Become A Full-Time Job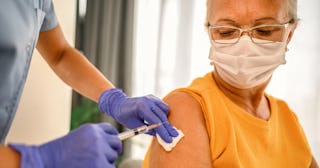 bluecinema/Getty Images
These days my texts with family and close friends are one of three varieties: memes about the dumpster fire that has been the past year, photos of my new puppy, or info and complaints about how hard it is to get the vaccine for our parents. We've gone from bitching about virtual school to sharing tidbits of info about where to get the vaccine and celebrating when our parents have secured one of these unicorn appointments for the magic elixir known as the Moderna or Pfizer vaccine.
The good news of the vaccine's approval late last year was quickly quashed by the sobering reality that getting the vaccine distributed was going to be a giant pain in the ass. We all knew that demand exceeded supply; what we didn't expect was just how much work it would take to get the vaccine. The government's lack of preparedness – with much of the blame falling on the previous administration – has created a perfect storm of inefficiency.
I'm a fairly educated person who consumes an extraordinary amount of COVID information and, I'll admit, I still don't entirely understand how a person who is eligible for the vaccine goes about getting the vaccine in my home state of Illinois. Where does a person over the age of 65 go to get a vaccine? Walgreens or CVS? One of the vaccination sites? Is it better to try your healthcare provider? Or call the county? It's a confusing mess that changes every day.
Crashing or glitchy websites, telephone hotlines with hours-long waits, and endlessly long lines at clinics have created got a sort of online "Hunger Games" – those with the time, resources, knowledge, or connections are at huge advantage. But the digital divide has made it almost impossible for the folks who need the vaccine the most and who are eligible to receive it – namely, those who are 65 and older – to navigate the system.
As reported by NPR, "the challenges facing seniors also speak to the country's fragmented approach that has left many confused and enlisting family members to hunt down appointments."
Enter their Gen X kids.
We're the latchkey generation who isn't going to just sit back and let things run their course. We're gonna handle it, dammit. Given our role as the current Sandwich Generation, we have a lot at stake too – we want to protect our parents' health and we want our kids to be able to see their grandparents again (not to mention maybe get some free childcare help again). So we're doing what we do best – we're researching and calling and clicking away, using all of the tools at our disposal.
"For many, the experience is similar to madly refreshing the Ticketmaster page in hopes of scoring rare concert tickets, except they aren't quite signing up to see Bruce Springsteen or Ariana Grande," wrote Travis Andrews in the Washington Post. "It's the typical family routine of seniors calling their adult children for tech support — only the stakes could be life or death."
Much of this work is falling on the shoulders of – you guessed it – women. Because that's what we do – we take care of shit. A friend of mine said she has spent hours trying to snag an appointment for her in-laws. Her husband? Not so much.
But even we Gen Xers – the ones raised on Oregon Trail and the glitchy, snail pace of AOL – are running out of patience.
"I really don't know how someone in their 70s or 80s or otherwise isn't computer-savvy could handle all this," Bethany Hamilton told the Washington Post. "I typed in all the information, and now the browser is doing that stupid thing where it tries to verify you're not a robot. So I'm clicking the stupid images with the traffic lights, and I'm clicking the stupid images with the crosswalks. Meanwhile I'm watching the number of vaccines left dropping."
Despite the waning patience, there does seem to be a camaraderie in this effort. We share tips with friends from our hometown on where our parents might have luck. And we celebrate with each vaccine delivered to someone we know. My own parents were able to get their first shot – after my mom got lucky with a phone call after enduring several frustrating attempts to register online – and friends shared in that excitement.
Nearly a year into the pandemic, this shouldn't be the case. We had time to build an efficient and equitable roll-out plan. Yet here we are. This is unacceptable and we need to keep after government officials and public health agencies to get it together. We need to wear our masks and socially distance until the vaccine rolls out more quickly.
In the meantime, we will click, call, and wait.
This article was originally published on