12 Hemp And CBD Self-Care Products We Love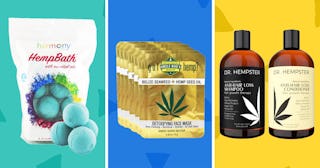 Amazon
One of the greatest things to come out of modern technology is that now we can get access to products like these—at the click of a button. We've known the health benefits of Hemp and CBD oils—such as helping with pain, anxiety, and skin care—for years, but today they're more popular (and easier to get) than ever.
Here are few good finds that will help you relax after a long day, fight aches and pains, and help your skin and hair look as healthy as ever. All you need is a Prime account!
Imagine locking the door and drawing a hot bath with one of these bath bombs. Your skin will feel rejuvenated, and you might get a minute to forget about that raging tantrum your kid had at Target.
These sulfate and paraben-free face masks remove oils, dirts, and toxins, and fight off blackheads. They're like a present for your face. Use these while you soak in the bath (see #1).
It's not just the presentation of this soap that we love. The way your skin will feel afterward is the biggest perk.
Hemp oils are reported to help relieve pain, anxiety, and stress. So, put a drop of this pure hemp oil on your tongue, and your day could get a whole lot better.
Our lips need love too, right? This lip balm by Hempz offers SPF 15 protection against sun damage, and provides hydration, nourishment, and nutrients to make your lips less flaky and more smooth. You'll honestly want on for your purse, car and junk drawer.
If you're curious about hemp and CBD health benefits, but don't know where to begin, a beginner's guide like this one might help you get started.
Bath salts have been used since Roman times for relaxing and healing rituals. So why can't 21st century moms enjoy them too? These bath salts infuse red poppy and hemp oils to provide you with the ultimate relaxation at bath time. I will probably pair these with a face mask (#2) for a double whammy.
If you're a busy mom on the go, but you want your body to enjoy the health benefits of hemp, how about popping one of these gummies in the morning? Known to offer relief of stress, anxiety, insomnia, depression, and nausea, these "tasty sweets" are worth a try. These are also ones we want to keep out of reach of kids because they look just like candy.
Tension knots? Try this. This pain-relieving salve is said to help with arthritis, knee, joint, and back pain (a.k.a. getting older). Made with hemp, rosemary, and olive oils, this one can't turn back the clock for you, but it can help you feel better as you chase those kids around.
If your skin is sensitive, tired, or itchy, BC Bud says it can help with this lava exfoliating hemp shower gel. And since your skin is probably as tired as the rest of you, this is probably a good one to add to your cart.
And don't forget about your hair! This shampoo and conditioner set with argan oil, wheat protein, saw palmetto, and biotin protects will wash the baby spit-up out of your hair while fighting against hair loss and offering extra moisture. Bonus: Jumbo bottles mean you won't need to restock for a while.
With hyaluronic acid, aloe, shea butter, and vitamin E, this night cream promises to rejuvenate our skin and fight wrinkles. You mean this stuff might make it look like my kids aren't sucking the life out of me on a daily basis? NEED. Will try anything.
So get yourself some all-natural hemp and CBD products, friends. They'll make you feel younger, softer, and more relaxed. And maybe help you fight that back pain after lugging your hangry toddler around the zoo all day.
We may earn fees from purchases made via links on this page and affiliated sites. All opinions are our own.
This article was originally published on