Here Are Some Books For Your Kids That Scream 'Girl Power!'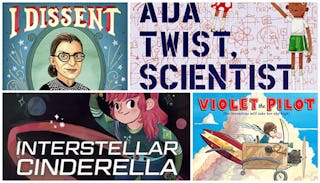 Go take a look at that stack of books in your kid's room. How many of those books have a girl as the main character? You may be surprised to see what you find.
Depressingly, there's even a gender gap in kids' literature. And it's pretty huge.
Looking at almost 6,000 children's books published between 1900 and 2000, a sweeping study found that males are central characters in 57% of children's books, and they appear in almost 100%. Not true for female characters; just 31% had any female characters at all. Time magazine listed the 100 best children's books of all time. Only 53 had females that speak, according to Rebel Girls.
Luckily, there are some amazing books out there with girls as the central characters. We owe it to our girls and boys to show them a world in which equality reigns — and girls are just as kick-ass as boys. These are a few books that teach all kids how to aspire to greatness, and give a backseat to tired gender stereotypes.
Once upon a planetoid,
amid her tools and sprockets, a girl named Cinderella dreamed of fixing fancy rockets.
"Rosie may seem quiet during the day, but at night she's a brilliant inventor of gizmos and gadgets who dreams of becoming a great engineer. When her great-great-aunt Rose (Rosie the Riveter) comes for a visit and mentions her one unfinished goal — to fly — Rosie sets to work building a contraption to make her aunt's dream come true."
"By the time she's two years old, Violet Van Winkle can fix nearly any appliance in the house. And by eight she's building elaborate flying machines from scratch—mind-boggling contraptions such as the Tubbubbler, the Bicycopter, and the Wing-a-ma-jig. The kids at school tease her, but they have no idea what she's capable of."
"When her house fills with a horrific, toe-curling smell, Ada knows it's up to her to find the source. What would you do with a problem like this? Not afraid of failure, Ada embarks on a fact-finding mission and conducts scientific experiments, all in the name of discovery."
"In her debut picture book, Misty Copeland tells the story of a young girl–an every girl–whose confidence is fragile and who is questioning her own ability to reach the heights that Misty has reached. Misty encourages this young girl's faith in herself and shows her exactly how, through hard work and dedication, she too can become Firebird."
I Dissent: Ruth Bader Ginsberg Makes Her Mark
"Get to know celebrated Supreme Court justice Ruth Bader Ginsburg—in the first picture book about her life—as she proves that disagreeing does not make you disagreeable!"
"Taking inspiration from the women who trail blazed their way onto the political map of America, Isabella celebrates the women who were first to hold their offices. And if Isabella can get her parents out the door, she might just witness the first woman voted into the highest position of all…"
Ada's Ideas: The Story of Ada Lovelace, the World's First Computer Programmer
"This picture book biography of Ada Lovelace is a compelling portrait of a woman who saw the potential for numbers to make art."
Good Night Stories for Rebel Girls
"Good Night Stories for Rebel Girls" is a children's book packed with 100 bedtime stories about the life of 100 extraordinary women from the past and the present, illustrated by 60 female artists from all over the world. Each woman's story is written in the style of a fairy tale."
Happy reading!
This post contains affiliate links, which means we receive a small portion of the sale if you make a purchase using this link.
This article was originally published on