This Genius Child Safety Hack Helps Keep Kids Safe In A Crowd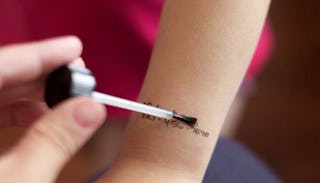 Image via Facebook/ Clovis PD/ weightdownweightloss.wordpress
Police department shares genius safety hack for kids in crowds
Summer's here and that usually means carnivals, festivals, theme parks, and other super fun but crowded events. There's a safety hack for managing your children in crowds going viral right now that you should add to your parenting arsenal.
Think of it as a temporary tattoo – with a function.
The Clovis Police Department shared this image last week as a tip for parents going into the summer season. "Write your phone number on their wrist and cover it with liquid band aid in case you get separated," the department said. "Also, take a photo of them using your cell phone the morning of the event so you have their clothing, hair style, and up to date photo."
The department got the idea and photo from a beauty blogger who says, "Now I'm very good at watching my daughter and keeping her with me at all times, but a mom worries all of the time! They always want their kids safe. So I came up with this idea which I personally think is amazing." All it takes is a fine point Sharpie and some liquid band-aid solution to give you an extra sense of security when venturing into busy places with your kid.
There's nothing scarier than losing your child, for even a few moments, in a crowd. Every parent knows that passing feeling of panic. And if you ever happened upon a frightened child, it would be nice to know you could immediately help. This is a great routine to add to the safety routine you already have in place. When in crowds, Child Safety Hub recommends establishing a meeting spot as soon as you get there. All children who are old enough to memorize should know their full name, address, and telephone number as well.
Here's hoping you never lose sight of your child long enough to panic, but it never hurts to be prepared.
This article was originally published on