Here's How To Protect Your Private Data On Facebook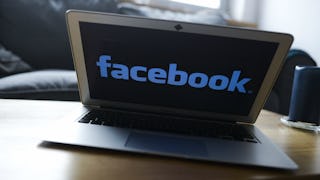 Image via Jaap Arriens/NurPhoto via Getty Images
Limiting app access can help keep your Facebook data a little safer
The headlines about Facebook lately have been scary AF, right? We put so much of ourselves on that site — even information that common sense tells us should stay private — without really thinking about how it's the internet, and while it may seem safe, it's not. The recent data breach at Facebook proves that — 50 million people may have had their personal information compromised, and that sounds pretty serious.
In light of this news, you may be wondering what you can do to help protect your personal information on Facebook. One major way is to keep careful track of apps that are connected to your Facebook. When you create an account on an app or website and choose to sign up with Facebook, it may seem convenient and time-saving. In reality, it allows those apps and sites access to some of the private information about you that's stored on Facebook including your name, the date and time you use the app, or even who you're friends with.
Luckily, it's relatively simple to limit which apps have access to your Facebook information. Here are some steps you can take to help keep your information more private, but always keep in mind that anything you put on the internet is potentially accessible to people who work hard enough to get it.
On desktop
Go to Facebook and click the small, downward arrow in the top, right side of the page.
From the drop-down menu, select "Settings."
Once in "Settings," select "Apps" from the list on the left side of the page.
On the "Apps" page, you can see which apps are connected to your Facebook profile and edit the information they have access to, or remove them entirely.
On mobile
Open the Facebook app, and tap the three horizontal lines on the bottom right side of the screen.
Scroll down toward the bottom of the menu and tap "Settings," and then "Account settings."
Scroll down toward the bottom again and tap "Apps."
Tap "Logged in with Facebook" to see which apps are connected and remove or edit their access.
Even after taking these steps, you should still be careful about using social media sites like Facebook and storing your personal data online. But at least now that we know what to do to limit access, we can feel slightly more in control of the information we share with third parties.