This Is Why School Lunch Should Be A Literal Free-For-All
by Rita Templeton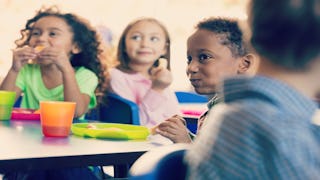 Hero Images/Getty
One time, I forgot to pay my son's school lunch balance.
I had gotten the low-balance alert via email, but it had been pushed down the screen by a bazillion other emails and temporarily overlooked. So when he went through the line that day, he had less than a dollar in his account, which wasn't enough to buy a hot lunch. According to his school district's policy, the kids who can't pay for a hot lunch should get a PB&J, but for whatever reason, my son went to his table (empty-handed and hungry).
When he came home, he told me how his empathetic teacher heard what had happened and gave him some food when he got back to the classroom – and the very next day, he received an envelope from one of his compassionate buddies with a few bucks in it, marked "ONE LUNCH FOR A FRIEND." I was embarrassed, to be sure, but so touched by this show of generosity.
For us, it was just a matter of my forgetfulness (mom-brain, okay?!) and we paid the stupid balance and that was that. But what about the kids whose parents can't "just" pay the balance? Sure, every school has a free and reduced lunch program for low-income families, but not everybody who needs those programs actually qualifies; their parents may be making enough money on paper, but in the day-to-day they're barely scraping by, and school lunches – especially if you have multiple children – can be a financial burden.
Some families may not file the paperwork because of a language barrier, or a fear of someone discovering their immigration status, or because the parents are absent or negligent in some way, which isn't the kid's fault. The hot meal they receive at school may be the most nutritious meal they receive all day, but if they owe a couple dollars, fuhgeddaboutit. Here's your PB&J, Poor Kid. Go sit with your friends who are eating that delicious rectangular school-cafeteria pizza. Try to act like you don't care.
School lunch shaming is a thing, and it varies between districts, but they all share one common thread: if you can't afford to pay, they're not exactly discreet about letting it be known. Some districts do the sandwich thing. Some deliver paper notices to the classroom, where everyone can see who gets one. And some dump hot lunches directly into the trash if they (gasp!) fall into the hands of a child who has a negative balance. (Yes: some schools would literally rather have the food end up in the garbage than in the belly of a hungry student, which makes me want to mad enough to scorch the Earth.)
Regardless of the method, it all ends up embarrassing the innocent, hungry child who just wants to eat like everybody else. School is hard enough for these kids without having to shoulder the stigma of being unable to pay. Lunchtime shouldn't be a source of anxiety, and school lunches should be like buses and textbooks: automatically provided to the students regardless of their ability to pay.
The Community Eligibility Provision, a federal program made available nationwide during the 2014-15 school year, is a step in the right direction – it provides no-cost breakfast and lunch to all students who attend lower-income districts where at least 40% of kids financially qualify for free or reduced-price lunches. (To determine a district's eligibility, data is gathered from the area's usage of Temporary Assistance for Needy Families (TANF) and the Supplemental Nutrition Assistance Program (SNAP), rather than relying on parents to fill out the paperwork.) Recently, New York City began offering universal free lunch to all of its students, joining the ranks of other major cities such as Chicago, Boston, Dallas, and Detroit, and a lot of smaller districts as well.
But to date, only a fraction of qualifying schools are taking advantage of the program, so more outreach and advocacy is definitely needed. All the kids get a free, hot meal, and all I've gotta do is talk to my school board to see if they can get the ball rolling and apply on time? YES PLEASE. And if my entire school doesn't qualify, there are grants. There are GoFundMe accounts. There are grassroots fundraisers so that every child can be guaranteed the same warm, nutritious meal that their friends are eating. We've got to be willing to make an effort.
Kids can't learn on an empty stomach. And school shouldn't be a place where they have to worry about whether they're gonna be able to eat: some students do enough of that at home. They say there's no such thing as a free lunch, but for the sake of every hungry kid in our public school system, there damn well should be.