Hero Bus Driver Who Rescued 20 Students Off Burning School Bus Says, 'I'm Just A Mom'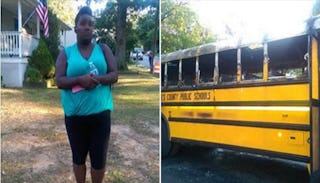 Bus driver Reneita Smith kept going back into a burning school bus until every child was out safe
Reneita Smith of College Park, Maryland isn't just dedicated to the kids she drives to school, she cares for them like her own. When the school bus full of 20 elementary school children Smith was driving suddenly caught fire yesterday afternoon, Smith's only concern was making sure that each and every child in her care was off that bus and safe.
According to Smith, an illuminated brake light indicator was the first indication that something wasn't right. Neighbors who saw the incident said they saw flames coming from the wheels of the bus. When Smith realized the bus was on fire, she didn't even hesitate over what to do. "I opened my door, took off my seat belt, and I got my babies off that bus," she told NBC. Smith went back into the flaming bus repeatedly until all 20 students were off the bus. A neighbor herded the children into a nearby yard a safe distance away. Then, just to be sure everyone was accounted for, Smith went back into the bus. "I ran back onto the bus to make sure that every seat was clear," she said.
The parents of children who were saved by Smith's bravery took to Facebook to share their gratitude.
While Smith's quick thinking and ability to stay calm in such terrifying circumstances resulted in her saving nearly two dozen lives, she doesn't consider herself to be a hero. As a mom herself she said she feels responsible for the children on her bus and is protective of them as if they were her own. "As I'm driving that bus, they're my babies," she said. "I'm their mom until I drop them off to their biological moms." You can check out this video of her bus engulfed in flames (after Smith helped all the children off safely) and see just how scary and serious the situation was.
When we send our kids to school on the bus, we do so placing our trust in the bus driver to get them to school and back home safely. But to do what Smith did, to keep going back into the bus to get every last child and then go back again after all the kids were safe, is pure selflessness. We can only wish all our kids are so lucky to have school bus drivers that care for them as much as Smith does for the children on her route.
"I have people calling me a hero, and I say that I'm just a mom," she said. Let's call her both.