30 Signs You Watch Too Much HGTV
by Christina Antus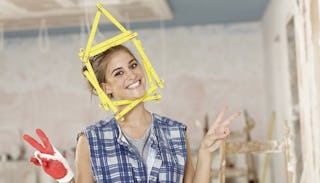 StockLite / Shutterstock
There's a fine line between addiction and obsession. Perhaps you could use the two interchangeably when it comes to featured open concept floor plans, granite countertops, and "bright and beautiful" interior options. If you are a devoted fan of HGTV, it's probably bordering on illness because it's impossible to quit watching any show on this network. Before you know it, you start painting everything in your house gray and know the names of Chip and Joanna's chickens and goats.
Here are a few more signs you are watching way too much HGTV:
1. You apply to be on every home renovation show, every season, even though you don't live anywhere near Toronto.
2. You can tell the Property Brothers apart and have a favorite one.
3. You refer to your bathroom as an en suite.
4. You can tell what traditional and contemporary styles are, yet still haven't mastered dressing yourself.
5. You enter the HGTV Dream Home Giveaway every year hoping this is the year the trendy guest room and coastal-inspired living room will finally be yours.
6. You want to be adopted by the Gaines Family.
7. You wander around Lowe's helping a young couple pick out tile, even though they came for potting soil.
8. You are convinced that the world can be fixed with a simple open concept floor plan and a neutral calming color palate.
9. You used the words "stylistic" and "rustic" to describe everything, including your food.
10. You brainstorm ways to turn your outdoor shed into investment property.
11. You need both a fire and water feature in your yard to highlight the pagoda that your partner has assured you they can build — despite the fact that your partner cannot even build a cabin with Lincoln Logs.
12. You get abnormally hopeful and excited when they lift up carpeting in hopes of finding wood floors beneath to refinish.
13. You get irrationally angry when other people can't see past the flocked wallpaper, avocado appliances, and shag carpeting. Clearly, they lack vision and don't know about "good bones."
14. You shake your head in disappointment every time a couple blows their budget on moving a load-bearing wall.
15. You stage your home with bowls of exactly nine lemons.
16. You ask your spouse for a belt sander for Christmas.
17. Your baby's first words are "curb appeal."
18. You have made more pilgrimages to Waco, Texas, than millennials have to Burning Man.
19. You will always have mad respect for Bob Vila, the OG of HGTV.
20. You watch every show and tell yourself, "I could totally do that."
21. You can't shake the shock that comes from the couple choosing House No. 2 when it was clearly all wrong for them.
22. You wish David and Hillary would date, or get married, and start a show called, "Just love it, because they will never list it."
23. You decide every room in your house needs a remodel and are confident you can do it in a weekend — even structural changes.
24. You name your dog, "Shiplap."
25. You judge people's homes based on whether or not they have double ovens and a warming drawer.
26. You tell yourself you could totally crash your own yard, despite not knowing anything about basic concepts like leveling, drainage, or permits.
27. Your spouse comes home from work to a partially demolished house, and you explain that you're flipping it.
28. You lose sleep at night over the fact that you have no accent walls in your home.
29. You believe the secret to a successful marriage is a double sink vanity and a bidet.
30. You want to use reclaimed wood to decorate your entire house.
HGTV is the visual version of crack. Once you start watching it, you can't stop. You won't stop until someone stages an intervention after you've started digging a hole for your pool that will have a 15-foot cascading waterfall and swim-up bar because it's great for entertaining. HGTV is everything we want our homes and life to be, so why wouldn't we watch? It's great to dream. Life is all about dreams. But only if it's a dream with an open concept floor plan and a neutral calming color palate.
This article was originally published on