Your HGTV Obsession Might Make You Hate Your Home
by Melissa L. Fenton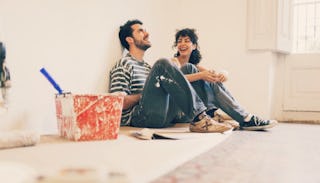 Tempura / iStock
Oh, the comforts of home. Home sweet home! Home is where the heart is! And also the open concept kitchen, his and hers bathroom vanities, a finished basement, a hearth room, shiplap everywhere, an outdoor living space, a media room, a man cave, and a mudroom.
Welcome to HGTV, the 24-hour-a-day "we'll just knock down that wall and open it up" home improvement channel
What's so addictive about being a voyeur of a stranger's search for the perfect house? Am I just a sentimental sucker for a great family-meets-home story? Do I long for another career as a house flipper, spending my days scouting short sales and shopping for shaker cabinets and affordable hardwoods? I can't help but get a little misty-eyed when Chip and Joanna ready themselves to pull back a giant "before" picture of an '80s ranch and ask, "Are you ready to see your fixer upper?"
Yes! I'm ready! I'm also anxious to see how that young couple who wants a beachfront home but has a bungalow budget will fare, and whether that large family that has outgrown their first home wants to love it again after a total remodel and an abundance of new innovative storage solutions. And what about that cute retired couple from Indiana chucking it all and deciding to move to Malta? Can they live happily in 400 square feet? (By the way, if you ever want your house to suddenly feel huge, just watch a few episodes of House Hunters International. It will make you hug your dishwasher and clothes dryer.)
I love all the shows! The demo days, the frugal flips, the Property Brothers turning molding mayhem into magical dwellings!
And yet I don't. There's just one huge problem with loving HGTV: when it starts making you hate your own home. After a recent HGTV binge, I found myself sitting at my kitchen table and looking around at my own surroundings. Everything in eyeshot looked wrong, bad, outdated, or broken. I cringed at the spot on the wall where a kid ripped the wallpaper border off. I got angry at the missing trim on the island that I have been asking my husband to replace for the last five years. The tile floor is chipped in a few places, drawer pulls are loose, and cabinet doors are sticky and outdated.
It could all just be better. If I could just fix that! Redo over there! Knock down a wall! Paint! Strip! Replace! Then of course I would be happy! Happy! Happy!
A few days later, during a rare moment when my whole family was planted in front of the TV, we came across an episode of HGTV's House Hunters. We watched a few minutes of a lovely couple with two small children wander around a 5,000-square-foot house and complain.
I sighed. "Look at all that space! What I wouldn't do with a game room and a large laundry room and just more rooms!"
A few seconds went by and then my 17-year-old said, "But then we would not be together like this. We would never all be together. Who wants that?"
I was stunned. Here was my teenager verbally smacking me across my ungrateful face. It was as if all the hours of home improvement voyeurism had programmed me to think that bigger and newer always equals better. Would I love for the folks from Fixer Upper to come to my aging and boy-destroyed home and work their magic? Obviously. Is it necessary to my happiness? Not one single bit.
I can guarantee that when my family sits around the table for dinner at night they are not looking at the chipped floor and the torn wallpaper. They are looking at me, their dad, their brothers, and their plates. And you know what? That is all they need.
That is all I need, too.
Am I going to quit my HGTV addiction? Probably not. I mean, who doesn't daydream about taking a sledge hammer to soap-scum-covered bathroom tile? But do I need to stop and check myself at the ungrateful door? One-hundred percent, yes, I most certainly do.
Until then, I'm going to love and appreciate my broken home, because it is housing and helping me raise some very awesome and very unbroken kids. And what else could I ask for than that? OK, fine, a mudroom.
But only if it's covered in shiplap.
This article was originally published on