HGTV Features A 'Throuple' On An Episode Of 'House Hunters'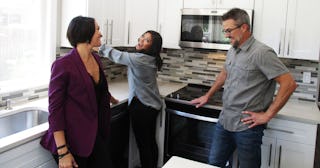 Discovery
HGTV's "House Hunters" is featuring the network's first-ever "throuple"
In case anyone wasn't aware, HGTV is apparently progressive as heck and fully proved it this week with an episode of House Hunters featuring a "throuple." It's exactly what it sounds like — a couple… only three people instead of two. Yep, there's now a House Hunters episode with a polyamorous trio looking for their dream home. Because the only thing better than watching two people fight over the merits of an open concept living space is watching three people fight over the merits of an open concept living space.
Meet Brian, Lori, and Geli — a throuple searching for their perfect house in Colorado. "A throuple is three people in a relationship," Lori explains. She and Brian are married and the pair met Geli at a bar. Soon after, they became a polyamorous trio.
The episode is titled "Three's Not a Crowd in Colorado Springs," and it spotlights Brian, Lori and Geli as they search for a home to accommodate their living situation that also includes Brian and Lori's two kids, ages 10 and 12. Though House Hunters has long featured LGBTQ couples on its show, this is their first foray into throuplings.
According to E!, during the episode, Brian explains a little more about what led to their relationship with Geli. "I understood from day one, even when we were dating, that Lori was bisexual, and interested in women and men. And so, we evolved to a point where we were comfortable having another woman in our lives," he says.
They had a commitment ceremony and it became official. "I didn't plan on being in a relationship with a married couple, but it just happened very naturally, organically," Geli says.
This home will be their first as a family, and it's significant for them in cementing that throuple status. "The past four years, I've been living in Lori and Brian's house, so buying a house together, as a throuple, will signify, like, our next big step as a family of five rather than all four of them plus me," Geli explains.
For the most part, viewers were very here for it.
They even noticed that some things hold true whether you're a couple — or more.
Funnily enough, this guy even called that very specific scenario almost three years ago and the throuple made come true.
"We feature all homebuyers and living choices," says HGTV in a statement.
And we're extremely here for it.