These Are The Real Costs Of Raising A Child With Special Needs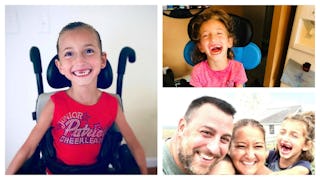 Allison Goldstein
Allison Reynolds is living a life she never expected. Seven years ago, her daughter, Brookie, was born with a form of cerebral palsy. Brookie has quadriplegia, is non-verbal, and is still in diapers. But her brain is fine. She's in there: a spitfire who demands, through her talking device, to bounce on trampolines and ride water slides (obviously with help for both), who chases after her brother in her electric wheelchair.
To know Brookie is to love Brookie. But, as her mom says, you spend the first few years mourning the child you didn't have. It's not meanness, it's fact: this is not the life you expected for the baby in your belly. This is not something you'd have chosen. But eventually, you learn acceptance. You learn to accept the limitations and the small victories, the daily grind of caring for a child who does not sleep for more than a few hours at time, even at age seven, who wakes crying because it's the only way she can communicate.
But you never get used to the cost. Not just the emotional cost, but the actual, financial cost of raising a child with special needs.
Most people think that children who have special needs like Brookie's get their costs taken care of completely by the government or by insurance companies.
Think again.
Managing the medical costs of a child like Brookie is a full-time job — literally. For example, insurance will cover a paltry eight sessions of physical therapy per year. Brookie needs many, many more than that to help her with her spastic muscles. For every other regular, standard therapy appointment, Reynolds and her doctors must write a letter to ask for more. Brookie's speech device, the only way she can communicate, cost $13,000 and a two-year fight with the insurance companies.
In the meantime, Brookie was trapped in a body she couldn't communicate with, other than blinking her eyes. Reynolds spends literal hours on hold at a time, only to be rerouted to another person.
But it's not fighting with the insurance companies that can break you. It's what they flat-out refuse to pay for that really hurts. Intensive therapies, for example, are not covered by insurance at all. A surgery called SDR, which could really help Brookie, would cost $80,000 — out of pocket. Stem cells, which some people are now doing, would be upwards of $20,000 and involve a trip to Panama.
"Napa Boston has the best therapy around for kids with motor issues," Reynolds tells Scary Mommy. "Our insurance doesn't cover it. It's $5,200 for three weeks, and you're supposed to go three times a year."
Reynolds is desperate to try neurofeedback with her daughter. "Maybe it would make her left side a little stronger, or help her talk better," she says. "I can't even try it because even one session is $5,000. And you just have to keep going with it."
Imagine staring all these therapies in the face: therapies that could help your child, help her improve her health, help her thrive. And now imagine that simple financial mathematics means you can't afford them. Simple mathematics means that your child wakes several times a night in desperate pain from spastic muscles, pain you can't help or take away, and one surgery would help: a surgery you can't afford to pay for.
Or you just have to stop therapy, period. Brookie had to stop speech therapy because it was too expensive at $110 a session.
Jennifer Dietsch, mother of a son with cerebral palsy, says they either stop therapy in the fall, because private insurance only pays for a certain number of them, or drops an exhorbitant sum on them to keep going. Reynolds calls it "a rolling need that never ends." She tells Scary Mommy, "We have to pick and choose therapies, operations — things that will prolong our children's life and make it easier because there is no way we can afford all the things. I have to pick the therapies I want to try because each of them is so expensive."
Then there's the hidden costs of having a child with a disability. This is the nitty-gritty of it all, the stuff no one thinks about, the stuff insurance ignores, the stuff people don't think of. Dietsch says, "We are the hidden families who are slowly being financially depleted and won't have the retirement we thought we would. We buy diapers for 18 years."
If, for example, Dietsch wants a toy her son can work himself, that toy, by being adapted, suddenly skyrockets from $20 to $100. She buys $12 spoons, $15 bibs — and uses 8 a day. A bike that would let him play with the other kids in the neighborhood is $1000. Adapting a vehicle with a wheelchair ramp? Think $25,000. "Pretty much everything we do in life has an adaptive cost that comes out of pocket," she says. "In order to get by, we have become master crafters and inventors to make a lot of the things we need."
Kayln Buesing faces many of the same challenges with her daughter, Mary. A canopy, tray, and better seat cushion than what came with her wheelchair cost them $1300, Buesing shares with Scary Mommy. A wheelchair accessible van: $53,000. Traveling for therapy — hotel, airfare, food while they're out — all this adds up, as do the miles she puts on her van. A walker and potty chair recently cost them $2200.
Reynolds agrees that the so-called "little costs" can be back-breaking. There are, of course, diapers and wipes to be bought, special straws and cups, special clothing, because Brookie is so long and skinny. Winter ponchos need to be altered to fit into her wheelchair. She wears special shoes with special orthodics. Special socks. Some people have it less lucky, and while Brookie can eat solid food, others have to blend it using a Vitamix, or feed their child Pediasure 1.5 at over $500 a month, out of pocket, like Buesing did, until insurance picked it up when her daughter was two and a half.
Reynolds is currently staring down the barrel of a total house renovation or buying a new house altogether to make it more accessible for Brookie. She'll need money for that, and has no idea where it will come from. In the meantime, she's forced to wake up at night and watch her daughter seize up, in terrible pain, unable to do anything but wish she could afford another surgery to help her. She's desperate to try neurofeedback to help heal her brain, but unsure if they'll ever have the money to do it.
In the meantime, she does the best she can. Even $50,000, a huge sum of money, would cover only two years of therapy. Two years. Brookie will need specialized therapy for the rest of her life.
But a few years ago, Reynolds made some promises. Among them, she decided that, "Brookie and I would be a team always. I would do everything to make her wake up and go to sleep happy." And she does.
Starting a group for parents also gave her meaning and purpose: "I started the CP group on Facebook and we have 9,000 members now. To be able to help people in the beginning of this adventure, to be able to be an advocate — sharing her story, bringing a light to people for acceptance." These are the things that keep her going. And going. And going. Through hours-long phone calls. Through yet another bill. Through another obstacle, and another, and another, and one more sleepless night.
"We just want our kids to wake up and go to sleep happy," she says. "We want them to have a life without pain and be as happy as possible."
You can follow Brookie on Facebook at Smiles for Brookie, and on Instagram Allison Reynolds at @dren54 and @alli369oilylover
You can follow Mary on Facebook at It's A Mary Little Life, and on Instagram at @ItsaMaryLife
This article was originally published on