If You've Been Waiting For A Pair Of High-Heeled Crocs, Your Time Has Come
by Valerie Williams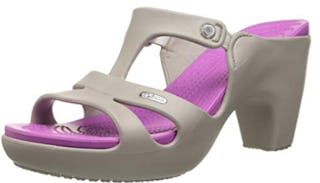 Image via Amazon
High-heeled Crocs are here to up your wardrobe game
If you've found yourself lately a bit torn on whether to wear plastic shoes full of holes or high heels, be conflicted no more. Now we can have both as sensible shoe purveyor Crocs has finally made dreams come true with a high-heeled version of their classic flat slingback.
Because sometimes we can have nice things.
Check. It. Out. Everything you could ever want in a shoe, all in one shoe.
Sensible? Yup. Comfortable? You bet your Swiss cheese hole foot tanlines they are. All of this while no longer sacrificing the height some of us tiny gals seriously need to make our jeans and dresses WERK.
Speaking of werk, evening attire anyone? Yes, these blessedly comfy little numbers also come in sexy, sexy black. Tell your husband not to worry — your outfit for his company's charity fundraiser will be on-freaking-point.
We only need look to Amazon to bring these versatile and unique kicks into our lives. For the eminently reasonable price of $80, you may as well buy them in every color.
Don't pretend to be above this. Don't pretend to be revulsed. It's fashion, look it up.
And if these cozy AF high-heeled miracles aren't snazzy enough for you, don't forget Balenciaga's bedazzled version. For when high-heeled Crocs alone just aren't extra enough. Oh, and for when you have $850 to light on fire.