High School Baseball Pitcher Holds Off On Celebrating Win To Console Childhood Friend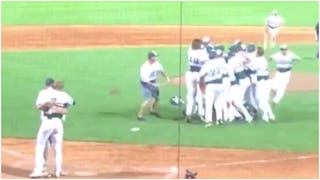 Image via CNN/Twitter
A high school baseball pitcher consoled his friend before celebrating his team's big win
It turns out that there can be crying in baseball — and that's totally okay. A high school pitcher struck his friend out, won the game, and then immediately ran over to comfort his opponent. So, basically, humanity exists and it can be found on a baseball field in Minnesota.
Ty Koehn and Jack Kocon have been good friends since they were 13. They played on the same little league team and, despite winding up at different high schools, stayed in touch. The two faced off against each other during a recent baseball game and Koehn ended up striking Kocon out, which clinched his high school's championship win, which sent them to the state finals.
A huge celebration exploded between Koehn's teammates but the pitcher went straight over to his friend to give him a big, long hug. I literally know nothing about baseball but I can confidently say that this is peak sportsmanship and also just all-around pure human goodness.
Is your heart currently melting with happiness right now? You're definitely, definitely not alone.
Koehn later told Bring Me The News that he went over to his friend because it was an "instinct, it just felt right."
"I knew the game was going to keep going or it was going to end right there," he said. "I knew I had to say something. Our friendship is more important than just the silly outcome of a game. I had to make sure he knew that before we celebrated."
Coach Mark Downey added that he wouldn't have expected anything less from his pitcher.
"Ty's actions the other night do not surprise me and are reflective of what I might expect from any one of the players on the team," Downey told Bring Me The News. "All really great kids, just a joy to be around on a daily basis."
This highly empathetic, thoughtful teen is currently being celebrated on social media. One tweet with video footage from the game has pulled in more than 20,000 retweets, 77,000 likes, and thousands of comments.
https://twitter.com/jetpack/status/1006523066812334080
Sending a big, big congratulations to Ty Koehn for both his win and being a generally wonderful human being. I have officially become a fan of baseball.