High School Transforms Hallways With Giant Book Murals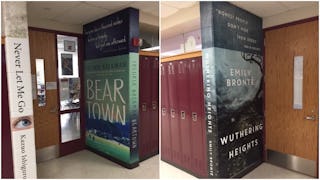 Image via Facebook/Mundelein High School
Students were surprised with the murals when they returned from break
Students at a high school in Illinois got quite the surprise when they returned from winter break — the entire English department hallway was decorated with giant, literary-themed murals.
And they're simply incredible.
Mundelein High School's English department hallway was given a major face lift over the holidays when the school commissioned six floor-to-ceiling murals outside the classrooms of teachers Ryan Buck, Mike Dayton, and Mark Landuyt.
The murals were printed on adhesive vinyl sheets and represent the favorite books of each of the departments' English teachers.
Buck's classroom door is now donned with "All American Boys" by Jason Reynolds and Brendan Kiely and "Born to Run" by Christopher McDougall. "These are two books that I would choose as my favorites," Buck, who spearheaded the mural project, tells the Daily Herald. "But they're also books that students really enjoy."
The other books featured include: "Wuthering Heights" by Emily Bronte; "Beartown" by Fredrik Backman; "Never Let Me Go" by Kazuo Ishiguro; and "October Mourning: A Song for Matthew Shepard" by Leslea Newman.
The prints wrap around sections of the wall like book jackets, which kind of creates a feeling of being dropped inside a library for giants. "A routine hallway has been transformed into a giant motivational tableau to encourage reading," the school said on their Facebook page introducing the incredible displays to the public.
School spokesman Ron Girard was astounded at the positive reactions the murals have received from people all over the world. "I was amazed at the responses," he said on Facebook. "Many comments are from teachers and administrators from all over the country wanting to copy the idea."
These vinyl murals make me want to go back to high school for a hot second.
"So many kids who have been turned on by these books are going to see it and say, 'I read that one. That book was awesome,'" said Dayton of his excitement for students to see how the project turned out. He chose "Wuthering Heights" and "October Mourning" for his hallway.
According to the Herald, the murals cost about $2,400 and were outsourced to a Wisconsin-based company, Visual Image Photography, who manufactured and installed them over the winter break.
"This project is a great way to motivate students to read more and to begin conversations about their reading, even in the hallways," Girard said.
Seriously, can someone please transform my entire house with these?