HS Coaches Body-Shamed Cheerleaders With 'Biggest Boobie' And 'Biggest Booty' Awards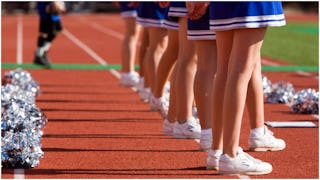 Image via Jancouver/Getty
Coaches for a high school cheerleading team gave out wildly inappropriate awards during an annual banquet
Today in repulsive news: high school cheerleading coaches gave out insanely inappropriate awards to students during their annual banquet. The coaches referenced the cheerleaders' breasts, behinds, and other parts of their bodies during the awards show and the American Civil Liberties Union (ACLU) has already stepped in with a warning for the school district.
During Tremper High School's banquet last March, a cheerleading coach gave out a "Big Boobie" award to the cheerleader with the biggest breasts, according to a report from The New York Times. The coach told a roomful of students and their parents that the young woman might get a concussion from running with her "enormous boobs."
Yup, this actually happened. And it kept getting more and more disgusting. There was also a "Big Booty" award for another one of the cheerleaders and the coach noted: "We love her butt. Everybody loves her butt."
The commentary on bodies continued with the "String Bean" award, which Tremper cheerleading coach Patti Uttech later explained was doled out because the young woman "was so light and skinny."
Parents were – very understandably – completely appalled. "I looked around and thought, 'Did that just happen?' If my daughter would have won one of those awards, I would've absolutely been rushing the stage. It was just so wrong, in so many ways." one mother told The Times.
Another mother added that she got in contact with the ACLU after the banquet because the young women should be "treated with respect. I don't think that's too much to ask for."
The ACLU has since sent a written warning to Kenosha Unified School District because they have "failed to take any meaningful corrective action" since the incident. "Gender stereotypes and sex discrimination are engrained in our institutions," the nonprofit noted. "Girls are taught from a young age that their worth is in their physical appearance, rather than intelligence, athleticism, or personality."
There has been an ongoing issue with the inappropriate treatment of female students within the school district. The Times reported that Uttech once gave a brunette cheerleader a blonde wig because she deemed her a "ditzy girl." And, even after the awards fiasco, the ACLU noted that the coaches were still using "harassing language towards cheerleaders during practices."
Uttech defended the coaches actions at the banquet, writing in an email to school administrators that the awards were "a huge hit and truly lots of laughs and fun" and "[the students'] parents thought it was the funniest thing."
Hmmm. I'm gonna go out on a limb here and guess that not a whole lot of parents thought this was funny. Particularly the mother who very wisely got in contact with the ACLU. Here's hoping actual repercussions happen for these coaches and young women are never sexualized or demeaned by adults in this school district again.
This article was originally published on