High School Cross Country Team Takes Lonely Shelter Dogs On Runs
by Jerriann Sullivan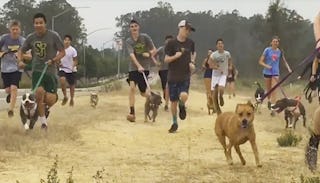 Via Facebook.
High school cross country team + shelter dogs + match made in heaven
A California high school cross country team took a group of shelters dog out for what could be considered the cutest dog run in history. This is such a great idea.
Students from the St. Joseph High School cross country team picked up about 12 dogs and took them for a group run. "It was a win-win for both the cross country team and shelter dogs," said Stacy Silva, community outreach coordinator for Santa Barbara County Animal Services, The Independent reported. "Tired dogs equal happy dogs."
And just look at how tuckered out this one pup was! His name is Fred and he had his high school running companion carry him at the end of the run. The team's coach, Luis Escobar, shared an adorable video on Facebook of the group's outing that was a few miles long and not far from the shelter. "I am not sure who was more excited and having the most fun…the dogs or the kids," he wrote. "Either way, it was a great time and I am sure we will do it again sometime soon."
Coach Escobar told reporters that he came up with the idea when he was thinking of a fun way that the teens could earn their volunteer service hours that the school requires. "I just thought it would be a great idea to get the kids together with some of the dogs and go for a run," he shared. "And that's exactly what we did."
Living in a shelter, even for a short time, can cause stress and anxiety on animals. Getting some fresh air and exercise while also making a new friend has unmeasurable benefits on the dogs. And it never hurts for kids to learn the importance of helping others – especially those who are helpless and have been abandoned. The best part is that this probably won't be the last time the cross country team takes shelter dogs for a group run, according to Escobar. He's hoping to get the full team together for another group dog run at the beginning of the season. Almost every shelter in the country will applaud this idea because they're always looking for volunteers.
"It was interesting because the dogs were so excited to get out and to be outside, but some of them are not in great shape," the coach shared. "They had a great time, they were barking and running and just going nuts."
If you're in the Santa Barbara area and interested in adopting a dog or donating your time to the shelter, contact Stacy Silva at (805) 934-6981.
This article was originally published on