High School Dance Team's Harry Potter-Themed Performance Will Blow You Away
by Valerie Williams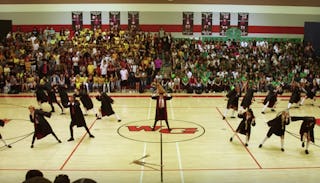 Image via YouTube/Walden Grove High School
High school dance team nails every detail in a Harry Potter-themed routine
An Arizona high school dance team has gone viral for the second time with a Harry Potter-themed performance you have to see to believe.
The Walden Grove High School dance team absolutely brought down the house recently with their homecoming dance routine. They already went viral (and eventually got to audition on America's Got Talent) with a Wizard Of Oz-themed dance last year. Well, they're back — and arguably, better than ever.
From their very own "Cupboard Under the Stairs" to a scene where Harry's sorted into Gryffindor, this team nailed so many details of the Potter fandom with their incredible performance. Just watch.
This is legitimately one of the coolest things I've ever seen and as a former theater kid, imagining the amount of prep and rehearsal that went into the end result has me a bit teary.
Just. Look. At. Them.
I'm not the only one totally stunned by their creativity — the video on YouTube is closing in on 2 million views. When's the last time you did something as a teenager that 2 million people cared about? These kids are amazing.
The teens danced like crazy to several modern hits including Flo Rida's "My House" but it was their intense dance-off to a remix of "Expecto Patronum" that had me shaking my butt in my seat.
OK, I lied — the showstopper is the Voldemort dance battle that has to be seen to be believed. Like, are they even real? Are they even high schoolers? This is just out of this world.
And if all of that wasn't enough for you, allow their straight-up thrilling finale set to "O'Fortuna" to fill your soul with joy and wonder for the rest of the damn day.
These kids are unreal — I rest my case.
This article was originally published on