'What Room Does Fear Have?' High School Dance Team's Performance Goes Viral
by Maria Guido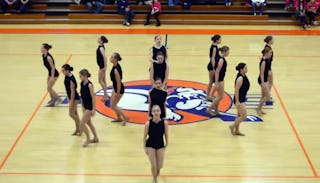 High school dance team performs without music, and the result is amazing
"What room does fear have?" This is the question repeatedly asked in a poem that projects over this now-viral high school dance team performance. The team from Mahomet-Seymour High School rejected the usual musical soundtrack that their routines are set to. They performed a routine to a poem called "What are you afraid of?" by Jon Jorgenson.
The result is an incredibly moving performance that reminds us that high school students are wise beyond their years.
"Most teams wore sparkly ensembles and waved flashy pom poms, but the team from Mahomet-Seymour High School walked in empty-handed, wearing plain black leotards," wrote The Pantograph.
Halfway through the performance the dark leotards transform into flowing white dresses. "The wardrobe change symbolized starting afraid and insecure to suddenly letting go of your fears," Mahomet-Seymour senior Autumn Hodge said. The video has been viewed over four million times since it was posted on February 1. It's not hard to understand why:
I used to be afraid of tomorrow, afraid that who I was would continually dictate who I am and that who I would be would be might be someone who I didn't like very much at all- as if that there was no such thing as being made new.
I used to be afraid of opinions – afraid that words would not break my bones they certainly would shatter my dreams. As if I started doing this for the approval of many rather than the glory of one.
I used to be afraid of failure, afraid of losing, afraid of falling, afraid of being wrong, creating buzz and looking absolutely stupid because who am I to think that I could ever actually make a difference.
As if those setbacks or anything more than stepping stones on the path to success.
I used to be afraid. I used to…