High School Is Refusing To Use Trans Teen's Chosen Name At Graduation UPDATE
by Valerie Williams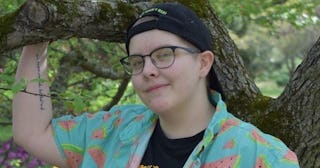 Brian Thomas via Change.org
The teen's father has started a petition to get his son's school to read his chosen name at graduation
The father of a graduating high school senior who is transgender has started a petition addressed to the school principal asking that his son's chosen name be read at the graduation ceremony rather than his "deadname," the name he was given at birth.
The document is addressed to Dr. Park Ginder, the principal of Homestead High School in Fort Wayne, Indiana — and the words are enough to break any parent's heart. In it, Brian Thomas pleads for his son to be called Wyatt, the name he chose for himself early on in high school.
"My transgender child is a senior this year and will graduate in early June. He has been going by his preferred name since the summer between his freshman and sophomore year. Teachers, pastors, managers, family and friends know him as a boy named Wyatt. But at graduation, because of an unwritten standard the school administration is unwilling to change, he will be called by his dead name. What is meant to be a celebration will instead be yet another moment of humiliation and embarrassment," the petition reads.
"As Wyatt's parents, we ask that our wishes be honored on behalf of our precious child. Call the name he will bear legally once the lengthy process of a name change is complete. Call him what his future university calls him. Call him what we and many others call him every day. Call him Wyatt."
And shouldn't that be enough? A child and his parents have requested he be called by his chosen name. Why the opinion or "policy" of the school should even come into play is confusing. Surely any "unwritten standard" can be easily amended in order to respect the request of a graduating student and his family. That means we're left to assume that this is simply hate and abuse at play during a time when this teen should only be celebrating.
Because make no mistake — the practice of deadnaming is absolutely a form of abuse toward a group of people who already experience enough of it. When referring to a transgender individual by their deadname it invalidates their identity. According to Healthline, it can also "out" that person if their deadname is used among people who don't know they're transgender, and they may not want to share that information. The National Center for Transgender Equality's 2015 U.S. Trans Survey found that 46 percent of transgender people surveyed had experienced verbal harassment while nine percent had been physically assaulted for being transgender.
Knowing those facts, it's hard to understand why Wyatt's school can't abide by his very reasonable request. As his father notes in their petition, Wyatt is working on making his name legal through a "lengthy" name change process. According to the Gay and Lesbian Medical Association, institutions (including schools) should support transgender individuals by updating records with their affirmed name even if it's not legally changed yet. They point out that it avoids both confusion and the possibility of deadnaming.
People signing the petition have left several comments supporting Wyatt and his family. One writes, "As a transgender woman, I personally know how shockingly painful it is to be called by one's dead name, particularly one purpose. Sending strength, solidarity, and love to Wyatt."
Wyatt's brother Ty also chimed in with his support. "Because my brother deserves this. He's worked hard to find himself these past few years, and being called by his preferred name would be a symbolic culmination of his high school years."
What's happening to Wyatt is horribly disrespectful at best and abusive at worst. Hopefully, with this petition gaining speed (it already has over 8,500 signatures) the school will see they're in the wrong and Wyatt can celebrate his graduation by hearing his own name, just like the rest of his classmates.
If you'd like to help Wyatt, you can sign the petition here.
Update: Wyatt's parents, Garsy and Brian, tell Scary Mommy that after a meeting with the principal, "the school has agreed to call him Wyatt at graduation." They share that they're also trying to get his name on his diploma, which is not a legal document as they had thought. "Wyatt will find out through his high school counselor at some point today," says Garsy. "According to Dr. Ginder, he has been called Wyatt for three years, so why not at graduation? This has been a matter of purposeful discussion and careful consideration on the part of the school, and a procedural decision made that benefits Wyatt. We are grateful the school took this request seriously and gave it the attention it deserves."
This article was originally published on