High School Bans Girls From Homecoming Dance After Measuring Dresses With Ruler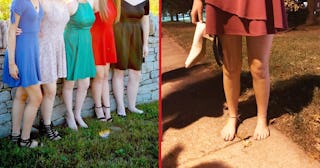 Courtesy of Carrie Vittitoe
The girls were denied entry to the homecoming dance because their dresses were deemed 'too short'
A Kentucky high school is facing parental backlash after the administration banned a group of girls from attending their homecoming dance because of the lengths of their dresses. Which school administrators measured with actual rulers. The mother of one of the girls wrote a blog post about the incident and her daughter's heartbreaking reaction to being singled out.
Many students whose dresses fell shorter than two inches above the knee were denied entry to the homecoming dance over the weekend, even though they had paid for tickets.
"Many students were milling around the parking lot waiting on their parents to get them when the police told them they were trespassing and had to leave," Carrie Vittitoe writes. "Many were kids I stood with on the sidewalk and waited for their parents to come since no high school staff waited with the kids. No police waited with them either."
Trespassing. In the parking lot of their high school, forced to stand outside and wait for their parents instead of dancing the night away with their friends. All because of an outdated and sexist "two inches above the knee" rule for the dresses in question.
Another parent tells WDRB that the girls were told their "legs were too long," and some had to "squat down" so they could be measured by administrators. One dad estimated that 100 girls had been turned away because of their dress length. ONE HUNDRED.
Excuse me, but… what? In what world is that an acceptable, respectful response to young girls? Not only is being singled out like that humiliating in itself, but to deny them the right to attend a dance they spent money and time preparing for likely just adds to the trauma of the experience. To say this response by the administration at Eastern High School disproportionately affects girls in a detrimental way is an understatement.
Vittitoe says she emailed the principal of the school and called the school board. "I encouraged the students to politely email the principal," she says. "I encourage everyone whose son didn't go into the dance because his date wasn't allowed into the dance to email the principal."
In Vittitoe's letter to the school, she calls out the hypocrisy and sexist nature of the "established" dress code: "I understand that EHS has the right to establish a dress code," she writes. "However, the problem with dress codes is that they generally affect female students, and they are horribly subjective in nature. An identical dress that comes to two inches above the knee on one girl may be four inches above the knee for another girl."
She also explains that finding literally any dress for a high school girl is difficult enough, let alone one that meets every single code requirement. "I'm not sure EHS staff understands that parents purchase the dresses that are available to purchase in stores. I don't know a single mother who wouldn't love to find the 'Hit at the Kneecap' dress shop, but this shop doesn't exist."
The same can be said for schools who punish girls for the length of their shorts or for wearing tank tops when it's hot outside. Where would these schools prefer parents to shop for their teens and tweens? Tommy Bahama for a pair of Bermuda shorts your grandparents wear on their annual vacation to the shore?
Vittitoe nails it in the conclusion to her letter: "With all due respect, the homecoming dance was a complete shitshow." She's totally right, and points out that the dress code issue became a safety issue for the students, who were left wandering around outside at night, unchaperoned.
"At the very least," Vittitoe concluded, "there needs to be a community discussion with EHS staff and parents to try to resolve this issue that has angered many, many parents."