HS Seniors Pose As Pop Culture Icons For ID Photos And Go Insanely Viral
by Christina Marfice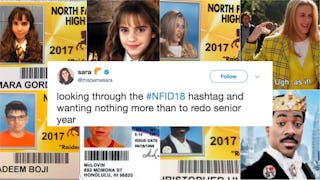 Images via Twitter
This year's crop of seniors at North Farmington High School really committed to the school's ID photo tradition
It's been a tradition for as long as anyone can remember for seniors at Michigan's North Farmington High School to dress up in fun costumes for their school IDs. But this year's class is the first to go massively viral, and it's easy to see why. They more than committed to the shtick.
Each of this year's seniors dressed up as a pop culture character — a TV or movie star, a meme, you name it. They then all tweeted their school ID photos next to photos of the characters they were copying, and OMG.
There's 17-year-old Mara Gordon, who dressed up as Hermione Granger from the Harry Potter series. She told Buzzfeed News she's been looking forward to taking her senior year photo "ever since [she] was a freshman."
"This year we really stepped it up and got every single person involved," she added. ""I had to make sure it was perfect so I bought the costume pieces and practiced my face in the mirror for days!"
A big part of what makes the ID photos so hilarious is just how much each student committed to his or her role. Check out 17-year-old Abby Coleman, who posed as a little girl eating cotton candy at a baseball game whose photo went viral online.
"Everyone at my school tells me I have the biggest cheeks ever and I'm also only five-feet tall, so I decided to find a little kid that was famous for something funny," Coleman said.
All the new seniors tweeted their photos under the same hashtag, and there are a ton of them. Here are some of the highlights, like McLovin from Superbad:
Hairspray's Tracy Turnblad:
There were a few members of Scooby Doo's mystery solving crew:
A throwback to classic Nickelodeon with Timmy from Fairly Oddparents:
Even Coming to America was represented. You'd think these kids would be a little young for that reference, but they pulled it off as perfectly as any of the others:
Dora!
And there were Disney characters, of course:
One student perfectly pulled off Tina Belcher's shocked face:
While another nailed Steve Urkle's signature pose:
Sitcoms were well-represented, with The Office's Jim and Pam, and Full House's Michelle:
And one student went classic, emulating one of Audrey Hepburn's most iconic looks:
One of the students even managed to pull off a perfect imitation of classic art:
The photos are amazing on their own, but what makes them even better is that the school's staff and administration were totally on board.
"I'm so happy I got to participate in this, and it's all thanks to my wonderful principal and the administration for letting us do this," 17-year-old Shelby Sheridan said.
She added, "At North Farmington High School, usually the seniors do a fun ID, but this year it really blew up."
So, uh, raise your hand if you wish you had gone to this awesome high school.