High School Students Build Trump Wall As 'Prank'
by Maria Guido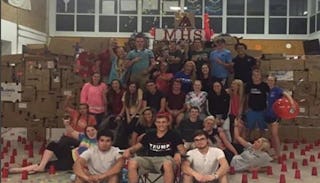 North Carolina students build a makeshift Trump 'wall'
Earlier this week, some students from McDowell High School in Marion, North Carolina built a wall made of boxes and blocked access to a common area on campus. The students were allowed into the school to pull off the 'prank' as a teacher supervised them.
A photo of the "wall" was shared on the Instagram account Students4Trump:
The caption reads, "McDowell High School students get the award for best #studentsfortrump senior prank. THEY BUILT A WALL!!" The wall was taken down the next day before classes, and the students won't face any disciplinary action. The Associated Press reports that the school did not allow the students to put a Trump sticker on the wall as they originally planned.
"In viewing the actual photo and what took place, there's not anything offensive in the photo," school administrator Brian Oliver told WLOS. "There was no offensive activity at the time. What became offensive or concerning was what took place on social media afterwards. So, it's hard for the school to have control or to take action against something that happened on social media that was outside school hours and outside any school network."
What a cop out. This was supervised by a teacher. The comments on the photo clearly illustrate the "Trump effect": just a bunch of kids insulting each other. It's pure vitriol. And it's alienating Latino students.
"It hurts a lot of people's feelings," Marta Guardian, a Latino student at the school explained to WLOS, tears streaming down her face. "They don't really know what people go through to get where they are right now. And some people are privileged to have so much stuff, but some people don't."
"I'm proud of where I'm from," said Guardian. "I'm proud to be a Mexican-American because I was born here. I was taught here. I learned about American culture, but I never left my roots… We are all immigrants. We are all from all over the world."
This article was originally published on