Lonely Shelter Dogs + High School Track Team = A Match Made In Heaven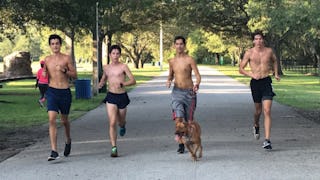 Image via Twitter
They take the dogs running five days a week
A Florida high school track team has spent the summer staying in shape for their sport, but they've also managed to work some do-gooding into their routine. In an arrangement that benefits everyone, the teens have taken local shelter dogs with them on their training runs.
These are some seriously happy pups, you guys.
Five days a week, members of the Steinbrenner High School track team, located outside of Tampa, take dogs from the Humane Society of Tampa Bay on lively jogs through the area that according to coach Bob Ennis, end with "sprinting after squirrels."
Coach Ennis tells TODAY that he got the idea from one of his runner's moms, who heard about a similar program at St. Joseph High School in Santa Barbara, California. Inspired to get involved in the community, Ennis reached out to the humane society to see if they were open to the idea of his team taking shelter dogs for daily jogs.
The coach connected with Glen Hatchell, who held a class at the shelter for the runners to learn about the dogs and worked with Coach Ennis to organize the program. The team, known as Boss Cross, started taking dogs on their daily runs earlier this month.
Ennis says, "We wake up and look forward to it each day. It's a great way to start the day."
The benefits for the team members are obvious — they need to stay in shape for their sport and getting out for a daily jog with your friends is a ton of fun. But the dogs are getting just as much out of their jaunts in the form of playtime, exercise, and socialization.
After runs, the dogs return to the shelter happy and calm from their vigorous workout. That alone is amazing, but the best part is how the runs expose the dogs to other people who can't help adoring them once they've met — leading to more adoptions.
That's what happened to the team's first canine running companion, Jasper, only it wasn't a stranger who fell in love with the sweet boy, it was two graduating seniors who joined the team for some practice runs this summer.
Jasper had been in the shelter since April and despite being a sweet and playful pup, no one had taken him home yet. The team started taking him on their runs and when it was time to head out, Jasper was "like a kid at Christmas." The team loved him too, and now his new owners will be bringing him to live at University of Florida this fall, according to Hatchell, who says the pupper will be able to keep going for his daily runs.
Sadly, the program has to end once school starts up again and the boys aren't available every morning for doggie runs, but Ennis is already planning to do it next summer. He's hoping to involve other local teams, resulting in more dogs getting much-needed attention and exercise — and hopefully, more adoptions.
Ennis will keep himself busy until then trying to get the dogs he and his team have grown to love adopted as well. He's especially concerned about Red, one of their regulars. It sounds like he wants to take the pup he calls "the cutest little dog in the world" home with him, but his hands are already full.
"I've got three dogs of my own," he says. "And my wife is tired of hearing about Red."
We doubt it will be long before she has a forever home with these guys in her corner.
This article was originally published on