Hilaria Baldwin Explains Why She Barely Mentions Her Stepdaughter On Instagram
by Thea Glassman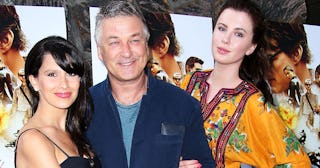 Sonia Moskowitz / Getty
Hilaria Baldwin wrote the sweetest, most thoughtful message about being stepmother to Alec Baldwin's adult daughter Ireland
Looking for guidance on navigating the tricky world of being a stepmother? Head straight to Hilaria Baldwin's recent Instagram post. She broke down how she built her healthy, loving relationship with Ireland Baldwin, Alec Baldwin's 23-year-old daughter with ex-wife Kim Basinger. It's all been about respect, space, and understanding the role that she plays in Ireland's life.
Baldwin took to Instagram to explain why she likes to keep her relationship with Ireland private. "I always want to deal with it with such care…so often you hear horror stories about evil stepparents and I wanted to make sure I did right by the family I was stepping into when I married Alec," she wrote.
The love Baldwin has for her stepdaughter is equal to the love she has for her own kids and she becomes "a mommy lioness" when she's accused of otherwise by trolls. However, she also wanted to add that she understands that she's not Ireland's biological mom and as such, she acts accordingly when it comes to respecting Basinger.
"Having a stepchild is a delicate matter. Especially one who is grown," Baldwin explained. "I think my relationship with her has been so successful because I never tried to step in as her mommy. She has a good mother, who I have tremendous respect for…and I put myself in Kim's shoes: if my children ever had a stepmother, I'd want her to let me be number one."
She also noted that she wanted Ireland's permission before she moved forward with her relationship with her father, which is beyond lovely. "Family is first and she needed to be ok with me," Baldwin said.
She added that her job is not to step on boundaries but rather respect that Ireland had a life long before Baldwin came into the picture. However, that doesn't negate the fact that Baldwin loves Ireland, "need[s] her in my life, and think[s] that she is one of the best things that has ever happened to me."
The feeling is clearly mutual. Ireland commented on the Instagram post, writing: "I prayed for two lesbian moms from the womb but having two moms this way will do. ♥️"
So, yeah, the moral of this story is that just because Baldwin isn't posting pictures of Ireland on social media doesn't mean there isn't a real, loving relationship there. Also, Baldwin is nailing the stepmother role like no other so lots of *snaps* for that.
This article was originally published on