Hilaria Baldwin Opens Up About 2nd Miscarriage In Instagram Post With Daughter
by Madison Vanderberg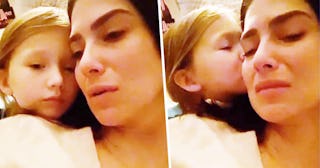 Hilaria Baldwin/Instagram
Hilaria Baldwin posted a heartbreaking video to Instagram where she opened up about facing her second miscarriage in a year
On Monday, November 11, 2019, Hilaria Thomas Baldwin took to Instagram to share the sad news that she had suffered a miscarriage four months into her pregnancy. She wrote a heartbreaking post about the news and accompanied that with a video of her and her daughter Carmen, who is seen in the video trying so hard to shower her grieving mother with love and affection.
"We are very sad to share that today we learned that our baby passed away at 4 months. We also want you to know that even though we are not ok right now, we will be," Hilaria wrote alongside the video.
Hilaria announced her pregnancy in September and detailed in her post how she tried to explain to her four children what this miscarriage means for their family.
"I told [Carmen] that this baby isn't going to come after all…but we will try very hard to give her a little sister another time," Hilaria explained. "I'm really devastated right now…I was not expecting this when I went to my scan today. I don't know what else to say…I'm still in shock and don't have this all quite clear."
The next day, Hilaria wrote on Instagram Stories that "today opened and it was not a nightmare…just a sad reality. Thank you for all of your kind and sympathetic words. I didn't know so many tears existed in the body. I'm trying to be present for my grief but understand that life goes on and there is still beauty, even in darkness."
Tragically, Hilaria also suffered a miscarriage back in April and shared the news on social media because she felt compelled "to show the truth."
"I think it's important to show the truth…because my job is to help people by being real and open," Hilaria wrote in an April 2019 Instagram post about her miscarriage. "Furthermore, I have no shame or embarrassment with this experience. I want to be a part of the effort to normalize miscarriage and remove the stigma from it. There is so much secrecy during the first trimester. This works for some, but I personally find it to be exhausting. I'm nauseous, tired, my body is changing. And I have to pretend that everything is just fine—and it truly isn't. I don't want to have to pretend anymore. I hope you understand."
As for Hilaria and the rest of the Baldwin family now, she punctuated her latest post with: "We are so lucky with our 4 healthy babies—and we will never lose sight of this."
We're sending love to Hilaria, Alec, and the entire Baldwin brood.