Hilarie Burton Shares Photo Of 'Miracle Baby' After 5 Years Of Infertility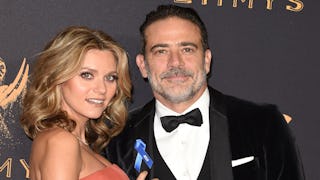 Image via J. Merritt/Getty Images
She shares the heartache that comes with enduring five years of infertility
Actress and former MTV veejay Hilarie Burton took to her Instagram account to share the happy news of the arrival of her second child, George Virginia. But the way she delivered the news differed slightly from most birth announcements — in the post, Burton opened up about her own struggles with fertility.
Burton is married to fellow actor Jeffrey Dean Morgan (who will always and forever be Denny Duquette to those early Grey's Anatomy stans), and they have one older son, Gus, who is eight. But Burton and Morgan have battled infertility for the past five years. So Burton wanted to share her family's happy news by also sending a supportive message to anyone who may be similarly struggling.
She begins the post by mentioning that she and her husband are normally super candid about details of their personal lives, they both wanted to post about the birth of their daughter.
"There's something I really want to say to all the women out there who are trying," Burton writes in the caption. "It took a long time for Jeffrey and I to have this baby. The first time I got pregnant, it took a year and a half. I surprised him on Christmas with baby Seahawk booties. We cried. We celebrated. We picked out names. And we lost that baby."
She writes that more heartbreaking miscarriages followed, and they experienced a total of five years of loss and struggle. "And every morning of the five years it took us, I'd open my computer at the kitchen table and see the news and I'd grow bitter over the endless parade of celebrities showing off their bumps and babies," she writes. "I'd weep out of jealousy for how easy it was for them. Didn't they know something could go wrong? Didn't they know that there were other women out there struggling? It pained me to see the corporate sponsored baby showers and magazine covers capitalizing on this human miracle that wasn't happening for us."
There is honestly no greater emotional burden than seeing couple after couple announce their pregnancies on social media when you've experienced infertility or endured a miscarriage. You want to be happy for them, and to an extent you truly are — but you're so, so sad for yourself. Watching other people have seemingly unhindered success when it comes to the one thing you want more than anything in life? It's fucking torture. And then you feel guilty for being jealous — it's an endless cycle of toxic thinking, to be sure.
"So when this pregnancy started, we were cautious," she says. "I didn't want to celebrate for fear of jinxing it. I didn't want a baby shower. I checked her heartbeat every day, up until the day she was born. And now that she is here, I just stare at her in wonder all day. I see her in her daddy's arms and I don't take any of it for granted. She screams bloody murder and I smile because she is so wildly alive."
Like many of us who are part of this unfortunate sisterhood, I know infertility. I know miscarriage. I'm also grateful beyond measure to know the joy and love of being a mother to a happy, healthy two-year-old girl. But I also know the terror that grips your heart and every nerve at the thought of enduring another loss. The excitement and anticipation that goes along with another pregnancy — if you're lucky enough to get pregnant again — will be marred next time. Laced with caution, fear, and even dread.
Simply put, it fucking sucks. Every part of it.
"So now that folks know she's here, I don't want her birth to cause any other woman to weep at her kitchen table," Burton writes. "If anything, my wish is that she would restore hope for others. Fertility is a fickle thing. And for the other couples out there who have had dark days, we want to introduce our miracle baby to you and send you our love and support in finding yours."