These Bitchy Bath Bombs Are Your New Favorite Thing
by Julie Scagell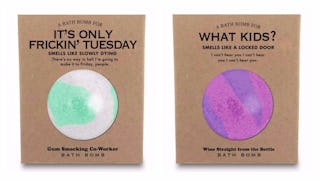 Image via Whisky River Soap Co.
If you needed a reason to take a bath, these bath bombs are it
Bath bombs seem to be having a moment, popping up in specialty stores and even grocery stores. Bath bombs might seem a little juvenile, but now, there's a company out there making them with adults in mind, and their names alone have us online shopping like crazy.
Whisky River Soap Company sells soaps, candles, and journals but it's their bath bombs that are truly unique. According to their website, "All product ideas are conceived in a now-defunct underground military training facility in an undisclosed location and transmitted via (low sodium) soup can to our brand-new, state-of-the-art, mid-century-modern-but-not-totally-IKEA offices in like Burbank or Dubuque. Somewhere like that."
It's official: we're in love.
These little magic balls come in a variety of colors, names, and smells, each designed to match whatever mood strikes you. And their names will have everyone snort-laughing all the way to the bathtub. There's the "F.M.L" bath bomb, which comes in handy when you've had just about all you can take of, well, everything. According to their site, "F.M.L." is when "It's been a bad day, week, month, year … life. Oh well. There's really nothing like hanging out in a margarita-infused tub to fix virtually everything. And as you know, there's no wrong way to use a margarita pool."
We couldn't agree more.
Or perhaps you're feeling the" Zero Fucks Given" bath bomb. This orange and white wonder should be used when, well, you're clean out of fucks to give. We can see this one coming in handy every time you turn on the news or when your kids complain they are "the only one of their friends who doesn't have blah blah blah," we have no idea, we've stopped listening ten minutes ago.
Other varieties to choose from include "Namaste" ("So let's all take a moment to silently express our gratitude for yoga pants,") #Blessed," and "It's Only Frickin' Tuesday," among many others.
Then there's our personal fave, the bath bomb called "What kids?" which "smells like a locked door." Because every parent deserves some goddamn peace and quiet.
According to their website, Whisky River Soap Company is "all about creating our own products locally because we're not just selling you a funny label wrapped around something mass-produced in China. We think there's a place for both quality and humor to exist together, and hope you agree."
At $8.95 a pop, we're thinking holiday gifts — check.
H/T: Bored Panda
This article was originally published on