Hilary Duff Shares Pic Of Baby Bump: 'This Journey Is Hard As Hell'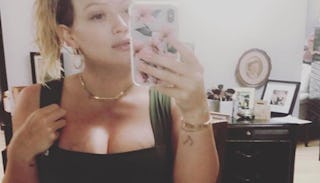 Image via Instagram/Hilary Duff
Hilary Duff gets candid about being pregnant the second time around
Who doesn't love a celebrity mom who keeps it real? Hilary Duff is opening up about pregnancy the second time around, and — spoiler alert — just because you've done it once doesn't mean it gets any easier the next time.
In a recent Instagram post, Duff shows her adorable new baby bump — she's expecting a little girl with boyfriend Matthew Koma. She also gets candid about the highs and lows of being pregnant in a way moms everywhere can relate to.
"The boobs are big the belly is big the body is big," she begins.
"Man.. pregnancy is hard," she writes. "Giving love to all mamas who make it look effortless… this journey is hard as hell and also incredibly special."
Basically, she perfectly nails the conflicting feelings of being pregnant. Of course, it's amazing — the whole growing a tiny human inside your body — and there are many enjoyable aspects. There are also plenty of ways pregnancy can make you feel like garbage, so. There you go.
"Lovely to have a little life inside and to daydream of all the new adventures to come buuuut almost impossible to get my own shoes on," Duff says. "Sick of getting up 9 times a night to pee and looking at this weird body in the mirror that is not my own at the moment."
Because nothing will make you panic about the foreignness of your body like pregnancy will. Suddenly, the body you've had your entire life and are intimately familiar with betrays you in a thousand ways — via gas, stretch marks, swollen ankles/feet/hands, a puffy face, nausea, lightning crotch, back pain, breathlessness, you name it. Sometimes it's just damn hard to feel good when you're preggo.
But that doesn't stop Hilary Duff from trying to see the silver lining of it all — a sweet baby at the end of it all, and the fact that women are literally amazing, miraculous beings who create and sustain life. "Women are so badass, this was just a note to remind myself and remind others how's strong and beautiful you are! WE GOT THIS!"