Hilary Duff Shares First Photos And Name Of New Baby
by Valerie Williams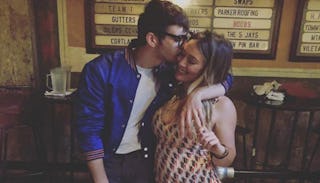 Image via Instagram/Hilary Duff
Hilary Duff had her baby girl last week and took to Instagram with the sweetest photo
Everyone can use a little happy news these days, and Hilary Duff is bringing it with an adorable post announcing the birth of her baby girl — and that little nugget's very unique name.
She writes, "Banks Violet Bair. This little bit has fully stolen our hearts! She joined our world at home on Thursday afternoon and is absolute magic."
Banks Violet is freaking precious and how very cool that Duff and her partner Matt Koma were able to keep the exciting news under-wraps for a couple of days. The new dad shared the same photo on his Instagram account with the caption, "Banks Violet Bair /// 10.25.18 /// We welcome a beautiful daughter, little sister, and best friend for life. Could not possibly be more grateful for our growing family and for the 🍊 who makes it all possible. Cloud ten."
All together now — awwwww.
Duff also shared some very ovary-exploding pics of Banks in her Stories.
The newly-minted mother of two has been super candid throughout her pregnancy about the realities of carrying a little one for nine entire months, even sharing her (very understandable) desire for Banks to make her appearance through her Instagram stories — and plenty of sweet bump photos as the big day approached.
She also got very real about how hard pregnancy can be. "Lovely to have a little life inside and to day dream of all the new adventures to come buuuut almost impossible to get my own shoes on..sick of getting up 9 times a night to pee and looking at this weird body in the mirror that is not my own at the moment," she writes.
Already mom to six-year-old son Luca, Duff has always been incredibly open about her love of motherhood.
She and Koma shared the news of her pregnancy in June along with a very cute bump reveal.
https://www.instagram.com/p/BjxVOv4H9Gi/?hl=en&taken-by=hilaryduff
Hopefully, we can expect to see plenty of gorgeous pics of her sweet kids as she adjusts to being a mom of two. Congrats to the whole extremely cute fam.