Hilary Duff: 'I Don't Care If I Look Absolutely Perfect In A Bathing Suit'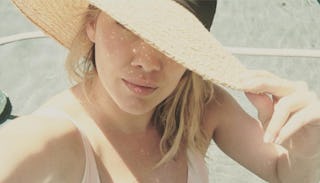 Image via Instagram
Hilary Duff shares healthy outlook on her body after baby
As far as celebrity moms go, Hilary Duff is pretty relatable. She's down-to-earth and very dedicated to her adorable son. She also has an impressive philosophy about her body after having a baby that we could all learn something from.
According to Today, Duff has a lot on her mind these days when it comes to being mom to Luca, age four. "You're always worrying. Everyone wants their kids' lives to go perfectly, which is obviously not possible all the time. But it's so fun. I'm so lucky."
Preach, girl. The worry struggle is real.
But one thing Hilary isn't losing sleep over is how she looks in a bikini. "I don't care to look absolutely perfect in a bathing suit. I'm a normal girl. I'm strong. I'm fit. I feel good about myself after I've had a baby."
Of course, she has every reason to feel good about herself. Just look at her. She is gorgeous and fit and in the eyes of basically anyone, pretty damn perfect.
However, even the most perfect-bodied person can fall prey to body image hangups and at the young age of 28, it sounds like Duff has a very healthy outlook on things. There's so much more in life to worry about; why obsess over your weight and how you look when literally no one is perfect?
In an interview last year, she told People about her diet and fitness routine, which sounds entirely reasonable and dare I say, normal. "I'm not a huge dieter, I try to eat healthy but don't deprive myself of things that I want or crave. Lots of protein and veggies … Plus, I do Zumba."
She does Zumba. Maybe we can be mom friends?
But despite her confidence and good habits, Duff admits that she doesn't feel great about herself every day. "I go through ups and downs, being like, 'Damn, I'm fit right now' and 'OK, I'm letting things slide a little' and I'm totally fine with that."
Who doesn't? Even though I work out frequently and eat well most of the time, there are certainly days where I feel down about my body and know that I could be doing better. It's only recently though, that I've been able to have the kind of attitude Duff has in not feeling compelled to look perfect. The difference is, I'm several years older than she is. Better late than never, I guess.
No one needs a celebrity's permission to feel good about their post-baby body, but in a pop culture climate obsessed with "snapping back" and looking amazing immediately after popping out a kid, it's refreshing to hear from a celeb mom who doesn't pressure herself to be perfect. It's something every mom needs to hear, famous or not.
This article was originally published on