Hilary Duff Calls Out 'Creep' Taking Photos Of Children Without Permission
by Leah Groth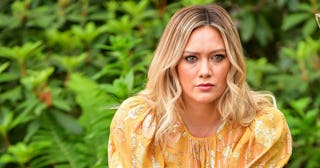 James Devaney/GC Images
On Saturday, Hilary Duff called out a photographer for taking photos of children without their parent's permission
As a parent, there is something undeniably creepy about watching a stranger photographing children that they don't know — especially without the permission of the said kids' parents. Hilary Duff, one of the most badass and real moms in Hollywood, noticed an incident like this occurring over the weekend, and her mama-bear instinct immediately kicked in. On Saturday, she posted a video of herself calling out a male paparazzo who was shooting photos of children playing football at the park, making a universal statement about why this is so wrong.
"Paparazzi shooting KIDS," she captioned the video. "Go 'practice' your photography on ADULTS! Creep! Laws need to change! This is stalking minors! Disgusting!"
In the accompanying video, Hilary flawlessly interrogates the photog and puts him in his place. "Who are you here with?" she asks him. "Do you know any people on the team? Can you stop taking pictures of the kids please?"
"It's legal," the man responds to her.
"It's making me feel really uncomfortable," she responds.
"Well, you shouldn't feel uncomfortable," he says. "You want me to show you ID?"
Duff tells him that she doesn't care about his identity. "I'm asking you to stop taking pictures of our 7-year-old children if you don't know anyone that's here. I'm asking you human to human, as a mother, if you don't know anyone here, can you please stop taking pictures of our children playing football this morning?" she continues.
"But I'm just telling you it's not illegal. I'm taking pictures; I'm practicing photography," he responds to her. "Your paranoia is unwarranted."
Obviously, it's not the legality factor that is troubling the actress, which she has made totally clear at this point. But still, she has to repeat her message because the dude clearly doesn't get it.
"No, it's just an uncomfortability factor that these are 7-year-old children and you don't have a child here," she replies. "They're our children, and we would like to protect them."
Finally, she is forced to use her celebrity status to expose him, threatening to post the video to her "15 million followers on Instagram and let people know how creepy it is that this is what you're choosing to do on your Saturday morning."
But he tries to throw it back to her, saying "No, you're making it creepy." He then moves to put his hand over her phone's camera lens.
Wait, is this dude for real?
Hilary hasn't exposed the photographer's identity, nor has he publicly commented on it.
This isn't the first time the Younger star has stood up against paps. In 2018, the then-pregnant actress confronted a photographer who had been following her around all day.
"When people say that's what you get for signing up to be a celebrity it honestly makes me sick," she wrote. "This is every day of every month, and it's simply not OK. If a non 'celeb' (I'm sorry to use that word) was dealing with this, the law would be involved."
"In a world where women are getting all these rights, this doesn't seem right to me at all," she continued before turning the camera on her upset son and asking his opinion of the matter. "How much do you like that the paparazzi follows you? Makes you sad, huh? You hate it."