Hilary Duff Shares Adorable Photo Montage On Her Daughter's First Birthday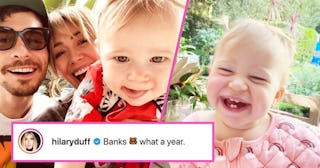 Hilary Duff/Instagram
We love how much Hilary Duff loves her baby girl
Hilary Duff shared an adorable photo montage to celebrate her daughter Banks' first birthday, and the entire video is just the cutest. Set to Stevie Wonder's classic tune "Isn't She Lovely," the video flashes through images from Banks' birth and ends with her looking adorable as ever as she approaches toddlerhood.
"What a year," Duff writes in the caption. "You are spirited and funny and brave and edible and we are so lucky that on this day one year ago you made your arrival and made our family the four pack that we are!"
Duff shares another child, 7-year-old Luca (whom she mentions in the post), with her ex-husband, Mike Comrie.
"You made mommy a mommy again, you made daddy a daddy (the absolute best) you made bruvah a brother (the absolute best). Happy birthday beautiful… you get all the birthday cake today!"
The birth of baby Banks is what put Hilary Duff on many moms' radar as a relatable, fun-to-follow celebrity mom. Mainly because Duff has been nothing but candid about her struggles with new motherhood the second time around — even crowdsourcing fellow moms for tips to deal with colic.
"Calling all parents of colicky babies…this ends, right? Can you ever set them down without them screaming OR waking up?" Duff wrote at the time. "We have read everything the internet has to offer…nothing besides nursing basically every hour or less helps! We have done all the obvious things…please leave magic tricks in comments." Plenty of moms chimed in their suggestions (as well as shared their sympathy).
Duff also generously shared an amazing video of Banks' birth earlier this year.
"I've been wondering for a long time if I would ever share this video as it is extremely personal…. it was so absolutely lovely and rewarding(and shocking) that after giving birth to my baby girl we hugged …for the first time, In my mind I like to believe that she was saying good job mom," Duff wrote. "Go team go. We did it. Together."
And just last week, she shared a hilarious photo of Banks acting like a typical one-year-old in a restaurant. The best part is Duff's face, because it's literally ALL OF US when our little ones are in a restaurant.
https://www.instagram.com/p/B3mxmQYjJ-A/?utm_source=ig_embed
Happy birthday Banks — we hope your mom keeps sharing the real, the sweet, and the hilarious bits of your life with us during the next year, too.