Hilary Duff Is Engaged And The Pictures Are Adorable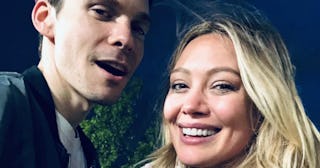 Hilary Duff via Instagram
Hilary Duff is officially engaged to her boyfriend Matthew Koma
Hilary Duff has had a great year. In March, she gave birth to her daughter Banks Violet (and if you haven't seen the video of them hugging, please watch and prepare to feel feelings immediately). She also made us feel very seen with honest, open social media posts about breastfeeding, motherhood, and that Rachel McAdams pumping picture. Now, she's taking the next leap with her boyfriend Matthew Koma and getting engaged.
Duff took to Instagram to share a picture of herself with Koma, kissing and flashing a gorgeous engagement ring. "He asked me to be his wife♥️," she wrote. There's a whole lot of glow, happiness, and smiles going on here and THIS is the kind of internet content we're fully prepared to get behind.
Koma shared the same picture on his Instagram and captioned it: "I asked my best friend to marry me…"
Okay, so, in celebration of this exciting news let's take a trip down memory lane with these two. They collaborated together on Duff's album Breathe In. Breathe Out back in 2015 and apparently there were some early sparks. "They had great chemistry in the studio," a source told Us. "Hilary thinks Matt is very talented and cute."
There was some on-and-off again dating that happened after that but the two were pretty official in 2017. "It's going so great," Duff said in an interview with E!. "I mean, this is the third time that we've dated and I think that what Selena [Gomez] says has so much merit to it. Timing is such a big deal… third time's a charm!"
In 2018, Duff announced that she was expecting a baby. "Guess what guys! @matthewkoma and I made a little princess of our own and we couldn't be more excited!!!!!!" she wrote, alongside a very cute picture of the two embracing.
https://www.instagram.com/p/BjxVOv4H9Gi/?utm_source=ig_embed
Since giving birth, she's been open about the challenges that have come along with motherhood, which is a delight because there's nothing more infuriating than Instagram posts that make it seem like all sunshine and daisies and pastel pink perfection.
"OK a few thoughts … real talk this is the first day I had two kids on my own on a school morning. Breastfeeding and making breakfast, getting 2 kids and myself dressed and packed and out the door while tripping over 4 dogs and feeding the damn fish was not easy. But I did it. And I'm proud of myself!" Duff wrote in an Instagram post. "Im proud of every mom out there who MAKES IT FREAKIN HAPPEN. All day! Everyday! You are the shit!"
https://www.instagram.com/p/Bwrh21KA6vV/
So, so many congrats to the happy couple and their family!
This article was originally published on