Hilary Duff Announces Pregnancy In Adorable Instagram Post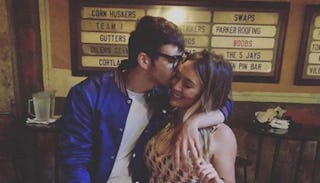 Image via Instagram/Hilary Duff
Hilary Duff announces second pregnancy with boyfriend Matthew Koma
Just a day after sister Haylie announced the birth of her baby girl, Hilary Duff shared the happy news that she's expecting a little one of her own. The actress is now pregnant with her second child — and she sounds so adorably excited.
Duff and boyfriend Matthew Koma posted a photo of themselves — featuring Duff's tiny baby bump — on Instagram, along with the news that the baby is a girl.
"Guess what guys! @matthewkoma and I made a little princess of our own and we couldn't be more excited!!!!!!🤰🏼👶🏼🎀," the caption reads. On his own account, Koma shared the same photo with the sweet caption, "We made a baby girl! She will be as beautiful and sweet as her mother … @hilaryduff another incredible chapter begins."
SIGH. So so cute.
Duff's wording, "a little princess of our own," is probably referring to her sister's own baby girl, who arrived earlier this week. The baby is Haylie's second daughter and her name is Lulu Gray, which is just ridiculously cute.
Duff is already mom to six-year-old son Luca Cruz with ex-husband Mike Comrie. Duff and Koma have dated on and off, but got back together this past December, according to PEOPLE.
The actress and singer is a fave among celebrity moms for her honest thoughts on topics such as post-baby bodies and mom guilt. We love her regular doses of parenting realism that remind us of the fact that no amount of money or fame makes this gig any easier.
We can't wait to hear more of Duff's parenting real talk along with photos of her bump and eventual baby girl.
This article was originally published on