Hilary Duff Wears Short-Shorts To School Drop Off, Moms Freak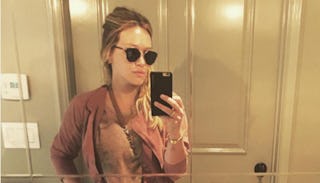 Image via Instagram
Hilary Duff wore a cute outfit to school drop-off and the internet wasn't totally supportive
Hilary Duff took to Instagram this week to share a snap of an adorable outfit she put together to drop her son off at school. And hey, good for her. We all know how tough it is to herd kids out the door on time every morning and also, not look like a total dumpster fire in the process.
That said, there are some who found her outfit "inappropriate." Because obviously, all moms are supposed to dress like Puritans and cover up every last scandalous sliver of skin.
Eye roll.
For most moms doing the harried morning routine, brushing our teeth and donning yoga pants that don't have visible spit-up stains is about as good as it gets. Could we get up at the crack of dawn and make a real effort? Sure, but odds are, that's not happening. Obviously, Hilary Duff is not most moms, but she's dropping off her son on her own and looking damn hot doing it. And for that, we salute her.
Check her out and try to decipher exactly what in the hell could possibly be wrong with this outfit.
Duff captions the photo, "Hey moms! I came up with a semi cute outfit for school drop off! I usually roll in sweat pants or lulu lemons and look like a disaster but this morning I managed to throw something cute together and I thought would share."
She goes on to describe what she's wearing and it all looks on the up and up to us. Naturally, the internet had other ideas.
"I have always liked her but no way is this appropriate. They look like panties," says one commenter, who clearly needs a new contact lens prescription. "Pretty sure we wouldn't be allowed in the school to drop off or pick up our kids if we wore this," spewed another, who might be taking her kids to school at an actual convent.
Like, does anyone shop at the mall anymore? Short-shorts are definitely a big trend found on the racks at most stores, and for a fashionable, young mom to wear them to her kid's school hardly seems a reason to clutch pearls.
Yet, the pearls remain firmly clutched as another kind-hearted commenter calls Duff's entire character into question based on her tiny bottoms. "You call this cute?!? A lady of class and substance wouldn't be caught wearing this even in her worst hair day."
Such hostility over denim!
Is this an outfit a lot of moms would choose to wear? Possibly not. But is there anything wrong with it from a decency standpoint? Nope. And even if she weren't wearing the coat over her ensemble, who gives a shit? She looks adorable and totally appropriate. No crotch or butt hanging out. No nipples on display. Not even a hint of tasteful side boob!
And who even has time between parenting and sitting in the car line and thinking about how much coffee is going to be consumed over the next several hours to bother picking apart what another mom is wearing? Shut the hell up, honestly.
If Hilary wants to be the "cool" mom, we applaud her. She looks fantastic and totally appropriate. Anyone feeling the need to criticize her obviously needs a hobby and possibly, some self-introspection.
There's no need to shame another mom for wearing a trendy outfit and putting forth effort in her appearance, just as there's no need to shame those of us who wear our "good" yoga pants and a messy bun to school drop-off. We're all doing the best we can. The last thing we need is judgment from each other.
This article was originally published on