Hilary Duff Says PG-Rated 'Lizzie McGuire' Reboot For Disney Plus Is Too 'Limiting'
by Madison Vanderberg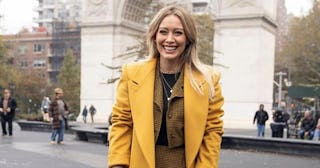 Hilary Duff Instagram
Hilary Duff asks Disney to move Lizzie McGuire reboot to Hulu
When Disney Plus announced that Hilary Duff was returning to the House of Mouse for a Lizzie McGuire reboot, reader: I screamed. Duff and the show's original creator Terri Minski were both on board and the show was set to follow Duff's Lizzie as a 30-year-old woman trying to carve out a life for herself in New York City. After filming two episodes, Disney Plus pulled the plug and fired the creator. Duff had been pretty quiet about it until Friday night when she took to Instagram, pleading with Disney Plus to move the show to Hulu instead and ditch the Disney-friendly "PG" rating.
"Was incredibly excited to launch 'Lizzie' on D+ and my passion remains," Duff wrote in an Instagram post on Friday, February 28, 2020. "However, I feel a huge responsibility to honor the fans' relationship with Lizzie who, like me, grew up seeing themselves in her. I'd be doing a disservice to everyone by limiting the realities of a 30-year-old's journey to live under the ceiling of a PG rating."
Though Disney Plus has not given an official statement on the matter, the word on the street is that Lizzie's new adventures as a 30-year-old adult woman didn't make sense for Disney Plus. A source told Variety that "Duff and Minsky wanted to do a more adult version of Lizzie for the revival, while Disney wants a show that would appeal to kids and families, something more akin to the original series." After they filmed two episodes, Disney Plus put the show on hold.
Love, Victor (a new series based on the film Love, Simon) was originally developed for Disney Plus but recently moved to Hulu and the High Fidelity reboot was also imagined for Disney Plus and is now on Hulu. Duff wrote on Instagram that she hopes her show can do the same.
"Its important to me that just as [Lizzie's] experiences as a preteen/teenager navigating life were authentic, her next chapters are equally as real and relatable," Duff wrote. "It would be a dream is Disney would let us move the show to Hulu, if they were interested, and I could bring this beloved character to life again."
We're sure a lot of OG Lizzie fans would love to see the "authentic" and age-appropriate version of the show that Duff imagined when she signed on for the reboot. Hulu, you seeing this?
If you want both Hulu and Disney+ to cover all your Lizzie bases, you can get Hulu, Disney+ and ESPN+ for just $12.99/month.
This article was originally published on