Hilary Duff Nails Why Moms Shouldn't Feel Guilty About 'Me Time'
by Cassandra Stone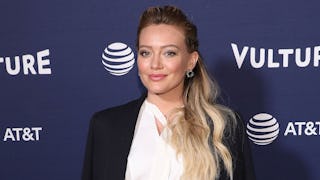 Image via Getty/Taylor Hill
We could all learn about 'me time' from Hilary Duff's example
If there's one thing moms should feel completely unapologetic about, it's engaging in a little "me time." We can't be the best moms (and humans) we can be without taking time to recharge our batteries — and Hilary Duff perfectly nails the entire concept of "me time" in the most relatable way.
In a recent interview with Parents, Duff opens up about her busy schedule as a working single mom (Duff shares one son, Luca, with ex-husband Mike Comrie) and how difficult it can be to pencil in some alone time.
"Sometimes my 'me time' is sitting on the couch and watching a show after I put Luca to bed," she says. "Or it might be telling him, 'Hey, I've been running around with you all day—I need to decompress and get off my feet.'" Duff says being able to recognize when she needs 'me time' and take it is something that took awhile to get used to. "It took until this year not to feel guilty about doing it."
We love the unapologetic Hilary Duff — from telling body-shamers to kiss her ass to not caring what the hell she looks like in a bathing suit.
And when it comes to "me time" — well, if I don't get at least a couple of hours to loaf on my couch after my daughter and husband go to bed, you don't want to deal with me the next day.
Duff says post-divorce, she felt guilty being a working mom and a single mom. She understands that she'll have to miss out on certain things, but that doesn't mean she has to sacrifice every minute of her time. Because no one — not moms, kids, or families — actually benefit from a mom giving 100% of herself, all the time.
https://www.instagram.com/p/Bhjm1q7Homd/?hl=en&taken-by=hilaryduff
"My sister and I will sometimes treat ourselves to a mani-pedi together," Duff says. "And I don't feel guilty about not checking my phone during that time." For many moms, "me time" is all part of necessary self-care. It's not always trips to the spa, weekends away, or extravagant measures — while those things are great, they're not always practical.
Getting a pedicure, going to a yoga class, binge-watching adult television shows alone, or literally just going anywhere that's not the grocery store — these are all things we need and shouldn't apologize for needing. I can't remember the last time my husband felt apologetic or guilty about going fishing for a few hours, or grabbing a beer or two with a friend after work.
"'Me time' never looks like a full day—that's not realistic," Duff says. "But it's the little things like this that add up."