Hilary Duff Sums Up In One Pic Why We Love Our Kids Even When They're Annoying AF
by Leah Groth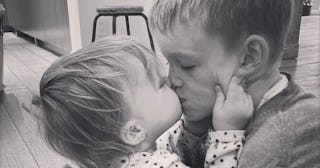 Hilary Duff/Instagram
Hilary Duff demonstrates how easy it is to love and loathe your kids during one 24-hour period
If you don't know what it's like to literally experience every emotion on the spectrum in a period of about an hour, then you clearly haven't been blessed with children. It seems impossible that you can be bursting with the most powerful type of unconditional love imaginable one minute and then experience an overwhelming desire to pluck every last follicle of hair out of your head the next — and then experience the cycle over and over within the period of a day. We love our children more than anything in the world, but they can also annoy us at that same intensity. How is that even possible, you might ask? Well, Hilary Duff managed to explain the phenomenon with one photo and a handful of words.
"My kids are annoying the living sh*t out of me today. . . . then they go and do this and make me feel so guilty," she wrote, alongside a truly adorable of her son, Luca Cruz Comrie, 7, planting a smooch on her daughter Banks Violet, 1. "I swear I love them ……mostly😉 but is it 5 yet?"
Do not feel guilty, sis. Almost every single mom on the planet can relate.
So many of Duff's followers found her post totally hilarious, with fellow mom Jamie Lynn Sigler giving her the go-ahead to do whatever she needs to do (um, likely throw back a glass of wine) even if the sun is still out. "Girl you do NOT have to wait for 5 !!!" she wrote.
This isn't the first time Duff has thrown down some seriously relatable mom truth. In October she confessed that, like us, she struggles to help her kid with his homework — and he is only in 2nd grade.
"This guy with his spirit and kindness. Homework is already no joke in 2nd grade," Duff wrote on Instagram next to a picture of her and son, Luca. "I stopped going to 'real' school in 3rd grade so I'm actually doomed… I am left scratching my head all the time looking at his homework and I'm terrified for next year!"
"Although Singapore math is the shit….also learned a lot about tick birds this week," Duff continued. Yeah, we relate to that too, because we totally missed that math-teaching method when we were in elementary school decades ago.
Duff, like so many other celebrity moms, often uses Instagram to connect with other moms, whether crowdsourcing for advice on colic, opening up about her struggles with breastfeeding, or adorably trying to sniff her baby daughter through her phone because she missed her so much. She just gets us and we love seeing that she deals with the same struggles we do.