Hilary Duff: 'I'm Divorced, And It Sucks'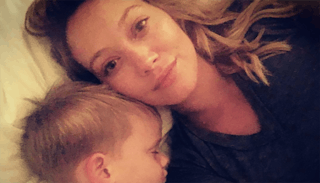 Image via Instagram
Duff speaks candidly about what its like to be divorced with kids
Being divorce with children can suck. Even if you shouldn't be together and no matter how happy you are now, the nuances of raising your kids in two households can be agonizing. Hilary Duff recently opened up about life as a divorced mother, the ups and downs of co-parenting, and the importance of maintaining a strong relationship with your ex.
"Some of my friends tell me, 'God, it must be so nice, you get a break from your kid because you share him.' I'm divorced, and it sucks. Well, it did suck for a while; now it's just normal," Duff explained to Redbook. "But it's true, I do get a break. I had Luca by myself for a few weeks, no help, when Mike was on the road, and when he got home I was like, 'He's yours! Bye!'"
Duff and ex-husband Mike Comrie wed in 2010 and divorced in February of 2014 when their son, Luca, was two. The two have remained close and share joint custody of their son.
Having a healthy co-parenting relationship is something that requires endless effort from both sides. It is not something that happens naturally, but a consequence of two parents working together every single day to make it as easy as possible on a child whose parents are no longer together. It is hard to comprehend the heartache of watching your children's lives and everything they own be divvied up like a dinner bill. All of their toys and Christmas decorations now inhabit two places instead of one. It is hard to put into words the profound sadness in something as inconsequential as seeing your child in a shirt that you did not pick out for them. It can be jarring. But it also reminds you to be thankful for the time you do have with them, to make the most of it.
"I think communication is really important and having respect for one another and knowing that your child is always watching" Duff told CNN last year. "We have a lot of love for one another, so I think that it makes the whole situation much easier."
Even when the co-parenting relationship works as well as Duffs', there are challenges. My ex-husband and I live a few miles from each other; we share custody, parenting decisions, finances and a general sense that even though our marriage did not work out, we ended up with two amazing kids who will always tie us together. We are still a family and our kids know we are a team. They will benefit from being raised by two happy parents, apart, but the choice does not come without consequences for everyone.
"The time I do spend with my son, when I am sole provider, caretaker and entertainer, can feel doubly overwhelming," said Duff. "And sometimes I take my son to a play date and find myself envying the simple rhythms of a two-parent household, the way someone else is quietly there to have your back or just have an adult conversation with."
This article was originally published on