Hillary's Beliefs Are Consistent With Her Actions — And I Know It Personally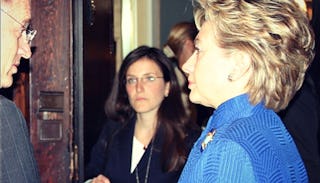 Ruby Shamir
After 11 years in Hillary Clinton's orbit, I made the decision to leave. It wasn't an easy decision. I was Acting State Director of her New York Senate office, and as one of Hillary's trusted advisors, I had played a leading role in her re-election campaign for the U.S. Senate. Before the Senate, I had worked for her in the White House and on her memoir and my job formed a major part of my identity. And now Hillary had launched her first bid for president!
But I was also the brand new mother of a sweet, deliciously chubby baby boy, Dante. My family and I were also enduring some hardships. My beloved mother had died of cancer a few years earlier, and we were caring for my sick father — he would die a few months later. My father-in-law also had died a few years earlier of a sudden heart attack, and we were supporting my mother-in-law.
I knew that staying in the office would require a level of time and commitment that I now wanted to devote to my family. So, while on maternity leave, I decided I wouldn't return to my job. And even though I had watched Hillary in action for years, I wasn't sure how she'd react. I feared that at worst she might think I was weak for not trying to balance it all, and at best she'd half-heartedly wish me luck. I took a deep breath and reached out.
When we connected by phone and I told her I wasn't coming back, her first reaction was to try to convince me to stay. I could work flexible hours, she said, and park a portable crib in the office. I knew she meant it wholeheartedly, but I also knew the erratic time demands of political work, the need to be on-call all the time and responsive at any hour. There was only one person whose middle-of-the-night calls I wanted to take now — little Dante.
I thanked her but stayed firm in my resolve. I wasn't sure what would come next.
"You know," she said, "I remember when Chelsea was born. It was so hard to go back to work." I recalled from her memoir that she had used up every ounce of leave she could muster before heading back to her job as an attorney.
To my surprise she continued, "It was the hardest decision. So I completely understand where you are coming from, and I absolutely agree with your decision. But I want you to know, if you ever want to come back, there will always be a place for you here with me."
I was shocked and so touched. She went above and beyond any expectation of a boss, and certainly of an international icon who had more important things to think about. She heard me on a human level — as the mother of a newborn, the daughter of an ailing, mourning father, and the wife of a new father. She heard me as a person who was making a major life change which would have ramifications on my career. She was deeply empathetic and offered me support and comfort. Her words showed me how sincerely she abides by her commitment to honor the decisions women make about their lives.
This year, I came back as an active volunteer in her presidential campaign. Dante is now almost 10 and his two little sisters have joined our brood. They all wear their "Hillary" buttons proudly on their backpacks and endure the time I spend on conference calls, traveling, emailing, or writing in service of this historic campaign because, as they hear me say over and over again, Hillary is dedicated to families and children here in the United States and all over the world.
You can glean as much from Hillary Clinton's position papers and speeches, but I find it's particularly resonant with voters when I tell them my story because then people see that her beliefs are consistent with her behavior. She values our families, and you can trust that she'll govern that way. Hillary is committed to supporting the potential in all of us and creating opportunities for parents and children, grandparents, aunts, uncles, sisters, brothers, and everyone in between to make the decisions that are best for them – I know it personally.
[free_ebook]
This article was originally published on